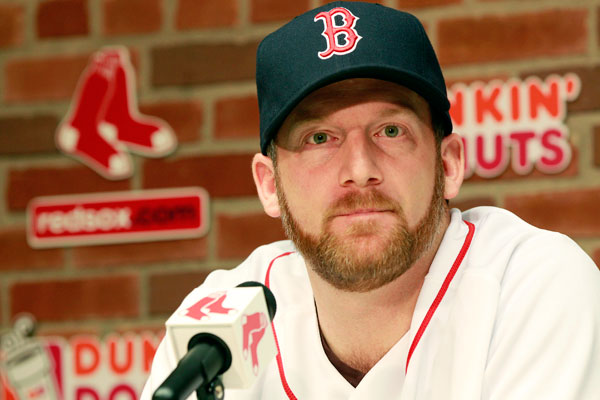 With Super Bowl Sunday and the NBA All-Star game in the rearview mirror, that can only mean one thing. Baseball season is upon us, and the defending champion Boston Red Sox are facing a hefty amount of question marks.
Starting pitcher Ryan Dempster recently announced he would not be pitching in the 2014 season. Such a move is very uncommon in the sports world, as Dempster stated he will be stepping away for physical reasons and so he has the ability to spend more time with his children.
"The past few years have been tougher and tougher," Dempster told Sports Illustrated. "As you get older, going through some things, some issues I have with my neck that have made it harder and harder to throw a baseball and throw it like I'm accustomed to throw it," Dempster added on why he was hanging up his cleats.
It is a very strange decision that is uncommon in professional sports. Dempster may still pitch in 2015, so he is not retiring. For the time being, the Red Sox have lost the starting pitching depth that they so heavily relied upon during the 2013 World Series run.
The Red Sox still have one of the best starting rotations in baseball, but starters Clay Buchholz, Jake Peavy and John Lackey all have proven themselves as legitimate injury risks.
Adding to the uncertainty is the apparent large role on the team the Sox have carved on the roster for outfielder Grady Sizemore.
Sizemore is a former three-time All-Star with the Cleveland Indians, but hasn't appeared in a game since 2011. Sizemore has also undergone seven surgeries for multiple injuries since 2009, including the brutal microfracture surgery to both knees.
"I think I won't know how I feel until I get out there and you're grinding every day," Sizemore told the Boston Globe. "You can only do so much from a rehab standpoint or an offseason program," he added.
It is very much up in the air how much Sizemore will see the field or how he will look once Spring Training gets underway. Boston is just holding out hope that they can get at least a fraction of the dynamic skill Sizemore once had.
"It's been frustrating," Sizemore said. "No one likes to deal with injuries and I've had my fair share. So, hopefully, that's behind me now."
One of the reasons Boston went out and acquired Sizemore was to alleviate the blow of star centerfielder Jacoby Ellsbury signing with the rival New York Yankees this past offseason.
Aside from that, Boston is slated to go into the 2014 season defending its title with rookies starting in centerfield and shortstop, arguably two of the most important positions on the team.
Jackie Bradley Jr. will be assuming the starting role in center, if all goes according to plan. Bradley is one of the organization's most-prized prospects, but faltered early last season to a .189 batting average in 37 games after lighting the world on fire during Spring Training.
Red Sox insider Sean McAdam of Comcast Sportsnet questioned the Sizemore signing in wake of all the positive things management has had to say about Bradley. "As much as they like Jackie Bradley Jr. in the long term, they don't know about 2014 yet," McAdam said.
Now with another title under its belt, Boston will have the targets on its backs in 2014. The team will not be sneaking up on anyone like it did last season.
All the uncertainties only add fuel to the fire, but the best part is that it all means baseball is officially back.
By Justin Hussong
Sources:
Sports Illustrated
The Boston Globe
Comcast Sportsnet