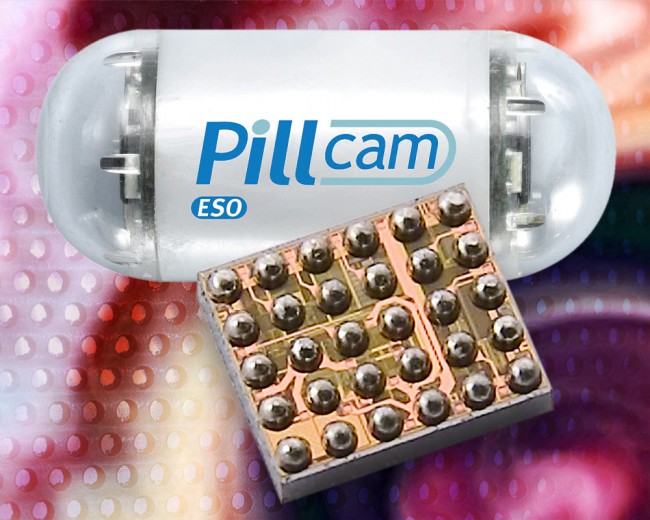 Someone takes a pill and doctors watch as the tiny camera it contains wends its way through the colon. It sounds like something out of a science fiction movie, but it is a reality already in use worldwide. The U.S. Food and Drug Administration (FDA) has approved a pill camera made by Given Imaging Ltd. for colorectal cancer screenings. The company received approval for a similar pill that shoots images of the small intestine in 2001.
Called the PillCam COLON, the digestible pill camera has been approved for use in screening for polyps and early signs of colorectal cancer. Originally touted as an alternative to a colonoscopy, the device was found in testing to be not as effective as a colonoscopy. The images taken the by cameras are not as crisp as those used during traditional colonoscopies, so the company pursued a more limited use for its device. This allowed Given Imaging to receive FDA approval for use of  its pill camera on those who have trouble undergoing a complete colonoscopy.
A colonoscopy is an invasive procedure where four-foot long tube containing a camera is inserted in the rectum to reach the colon. It offers a more comprehensive view of the colon than Given Imaging's PillCam COLON does. However, an estimated 750,000 patients per year in the U.S. are not able to have a complete colonoscopy because of their anatomy, previous surgery or various diseases.
The pill camera capsules are not cheap. Given Imaging's approved capsule will cost $500, but that is significantly less cost for a colorectal cancer screening than a colonoscopy, which costs roughly $4,000. The U.S. Centers for Disease Control and Prevention recommends regular colonoscopies from age 50 through age 75, but many adults do not get them. However, it is expected that the pill will be requested by adults who are reluctant to get regular screenings because of fear, pain and embarrassment.
The device consists of a small capsule (12 mm x 33 mm), which contains two tiny color video cameras, a battery and a light source. Once swallowed, the cameras are designed to transmit images for approximately 10 hours. The images are picked up by a recording device worn by the patient. The video images gathered are later reviewed by a doctor. Given Imaging, an Israeli company, developed its pill cameras using technology developed for missile defense systems.
Given Imaging makes seven product lines of medical devices and supplies. The company, which has had four products approved by the FDA within the past year, is in the middle of an acquisition by Irish medical device firm Covidien, which is expected to takeover Given by March 31.
Given Imaging's PillCam COLON was approved for colorectal cancer screenings in the U.S. based on a clinical trial conducted on 884 patients at 16 sites to assessed the safety and effectiveness in detecting adenomas of at least six millimeters. The pill camera had already been in use in over 80 markets worldwide, including Europe, Japan, Latin America, Australia, Canada and more. The company indicated that it now expects PillCam COLON use to be 3 million procedures worldwide including the U.S.
By Dyanne Weiss
Sources:
Clinical Advisor
ABC News
CBC News