Jerry Brown, California's three-term Democratic Governor,  has filed papers throwing his hat in the ring for an unprecedented fourth term in Sacramento.  The popular governor is the odds-on favorite in the Democratic primary in June, and there are as yet  no front-runners in the Republican Party who appear anxious to take on the low-key managerial personality with which Brown does the job.
Edmund Gerald  Brown, Jr., now 75, is both the youngest and the oldest governor in California history, winning his first term in 1975, when he just 37 years old,  and his third term in 2011, at 72.  (Ronald Reagan was just 56 when he won his first term as California governor.)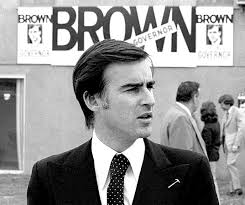 After deciding not to run for a third term as governor, Jerry Brown ran instead for the US Senate to fill Senator S. I. Hayakawa's seat, but was defeated by San Diego Mayor Pete Wilson in 1983.   Wilson went on to serve as governor of California from 1991 to 1999.
After his defeat in the Senate race, Jerry Brown attempted to win the Democratic presidential nomination twice more (his first attempt was in 1976), before retreating from public life.  He returned to public life by winning the first of two terms as mayor of Oakland, Californian in 1999.  In 2007, he was elected Attorney General of California as a Democrat, serving with Republican Governor Arnold Schwarzenegger, before being elected to his third term as governor, succeeding Schwarzenegger in Sacramento.
Brown currently has a 51 percent rating in the polls, unusual for any sitting governor, and especially unusual in highly divided California. A string of successes that have included getting significant tax increases from tax averse California voters. Working with a Democratic majority in both houses of the legislature, Brown has been able to pass business-friendly, cost-containing measures that a Republican Governor working with a Democratic legislature would probably never have been able to get.  In otherwise good health,  Brown has had two brushes with cancer, including a mild form of prostate cancer for which he was treated in 2012.  Nevertheless, it doesn't hurt that Brown looks and acts far younger than his years, and seems very comfortable working with younger people.
Brown has a long history as an early adopter of new trends.  During his first term as governor, the photogenic Brown got tagged with the label of "California's Hippie Governor," because of his involvement with yoga, Buddhism,  vegetarianism, and his tendency to hang out with rock and roll stars, back in the day.   It surprised no one when Brown ordered Schwarzenegger's famous "cigar tent" with an outdoor yoga studio.    It did, however, raise a few eyebrows when the incumbent governor of California announced his intention to run for an unprecedented fourth term in a Twitter message….but that's how he likes to do things.  Short, sweet and to the point.
In a more formal announcement on his campaign's website, Brown listed the accomplishments in his third term as governor, and laid out his goals for the next four years, focusing improving health care, repairing the state's aging infrastructure, creating jobs…and asserting that he has the energy to get the job done.  He will probably get a chance to put up or shut up, because he is currently running unopposed on the Democratic side of California's "top two" primary system, under which the top two finishers in the primary face off in the general election.
With a $10 million war chest already in bank, strong name recognition, and backing from independents and liberals, Jerry Brown may be hard to beat.  The son of the very popular two-term governor, Edmund "Pat" Brown, (1905-1996), Brown has an excellent chance of becoming  the only four term governor in the state's history, as well as both the youngest and oldest.
By Alan M. Milner
Sources: