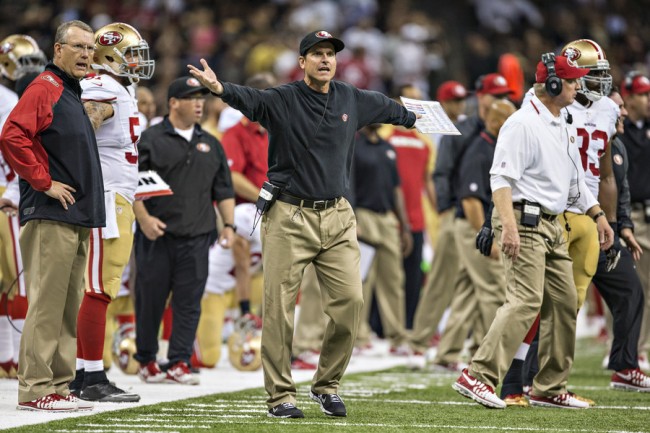 The drama never ends with San Francisco 49ers Head Coach Jim Harbaugh. From a distance Harbaugh appears to be the perfect coach. He's tough, demanding and intense. The perfect man to lead football players on the field and get the most out of them. He wins a lot of games and contends annually for championships. If only it ended there for Harbaugh.
However it never does because of the reasons listed above. The same combustible attributes that make him great are also the very things that undermine him as well. Harbaugh rubs people the wrong way. Players, coaches, even those that he works with. It has happened at all of his head coaching spots along the way and it is happening again. This time the drama comes from within the 49er organization, not from one of many rival coaches he has angered along the way.
It was confirmed over the weekend that the Cleveland Browns, prompted by owner Jimmy Haslam, offered two draft picks to 49ers owner Jed York for Harbaugh in an effort to lure him to Cleveland. Initially the reaction was to laugh at the Browns, a model of ineptitude for a couple of decades. This had to be a desperate ploy to gain credibility with their own fan base. Nobody in their right mind would let Harbaugh go.
Except for possibly Trent Baalke. The 49ers general manager is reportedly growing weary of his head coach and his attitude. Harbaugh and his confrontational style are alienating those in the organization that have to work with him. He is a winner and an elite coach. On every level. The problem here is he knows it. And does not suffer fools that he perceives to be in the way of his goals.
This is where it gets tricky for York. He has a brilliant head coach that wins with a defiant attitude and toughness that have led to success on the field. He has a budding general manager that has stockpiled a roster for Harbaugh that has been the league's most talented the last couple seasons. So whom does he choose? Does he have to choose? That is to be determined, but keep in mind the sub plot in this drama that will surely factor in eventually.
Harbaugh has two years on his contract that he allegedly feels is vastly under paying him. He is reportedly looking for a pay raise that would make him the highest paid coach in the league. Higher paid than Bill Belichick, winner of three Super Bowl Championships. Which might be a bit much for 49ers owner Jed York to swallow. And probably the reason he briefly listened to Cleveland and Haslam before quickly hanging up. So now the real drama begins. Can Harbaugh and Baalke co-exist? Will York have to pick one over the other? Or will Harbaugh make the decision easy by pricing himself out of York's budget?
If it comes to a decision between the General Manger or the Head Coach it won't be an easy one. Harbaugh has been brilliant wherever he's coached but few have been sorry to see him go. Making the case to pick Baalke is compelling as well. He has a roster loaded with talent that he picked himself. And whether likes it or not talent is the most important commodity in the NFL. It's because of that talent and Harbaugh that San Francisco was one play from winning the Super Bowl in 2013 and one play from getting there again in 2014.
For the time being York is downplaying the situation between his two most valuable employees and the impending contract situation with Harbaugh. And for the short-term perhaps it works as the 49ers owner lets the issue play itself out through the 2014 season as the 49ers try to make another run at a Super Bowl.
There's risk in that scenario though as well. Because if York doesn't lock up Harbaugh soon he risks alienating one of the elite coaches in the NFL as they embark on next season as the team with the best chance to knock off the Super Bowl Champion Seattle Seahawks. If he does sign his coach long-term and the 49ers fall short again he risks alienating Baalke while being on the hook for millions of dollars to a coach that cannot work with his direct supervisor.
Stay tuned folks because this is just the beginning of drama for Jim Harbaugh. Right now York laughs at the idea of trading his head coach. A year from now he may be wishing for that simple of a solution.
By Mick Varner
Sources:
Pro Football Talk
Sports Illustrated
Sacramento Bee