"Belfie" is the latest word from the millennial lexicon to enter the mainstream, which stands for butt-selfie, and it has taken over social media and soon the mainstream. So move over Jennifer Lopez, because the most famous butt in the world belongs to the so-called queen of the belfie and Instagram star, Jen Selter.
Fans of Game of Thrones who ran out to buy the latest issue of Vanity Fair to read interviews from the cast got an extra little surprise: two pages of Selter posing in a Louis Vuitton catsuit and a corset. Winter may be coming, but who cares?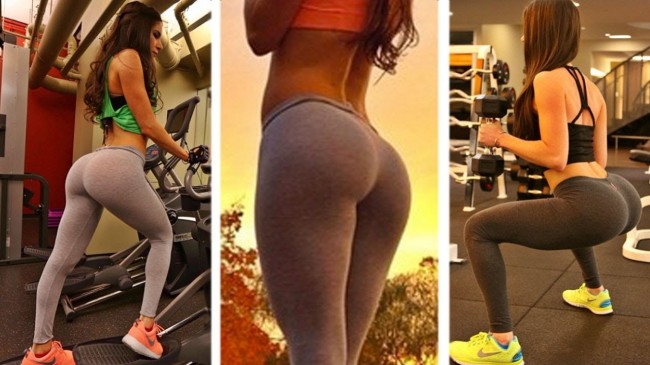 Selter, who is just 20, worked at a gym making $7.50 an hour when she started her Instagram account that features pictures of her prominently-displayed posterier. That account now has more than 2,650,000 followers and Selter has appeared on television shows and is a spokesperson for Gameplan Nutrition, Nike, Lululemon, and New Balance, just to name a few. She's also in the process of putting out her own line of workout clothes because why not when she can make thousands of dollars posting a belfie on a treadmill.
But it's not all about the Benjamins, Selter is more than the belfie queen and wants to use her world-famous butt to inspire people to workout and get in shape. According to Vanity Fair, "Selter is here to inspire," and fans say she motivates them "to go to the gym." Selter herself says her overall goal is to motivate people to be healthy and fit.
All of this is relatively new for Selter. In high school was wasn't particularly into working out or modeling. Instead, she considered herself like so many other woman do lately: as a "nerd." She says she considered college to be "a waste of time unless you know what you want to do." Luckily for Selter, she found her calling.
She doesn't care much for other people who sponsor loads of different products though. "When I see someone advertising for 100 different companies, it's like, Okay, this person is just in it for making money," Selter says. Instead, Selter's business endeavors are "a passion" according to the model.
Selter isn't the first fitness model to find success simply from Instagram. There are a myriad of yogis and workout gurus who have used their impressive bodies to generate interest in fitness products and techniques. Rachel Brathen has done well posting pictures of herself in a bikini on a beach in her home of Aruba doing handstands. Tara Stiles performs yoga poses in bikinis of her own, using images to promote healthy recipes and lifestyle tips. Selter is in good company, as the social media wave reaches new heights.
The side effect for being famous for taking belfies is that people might not care who's attached to that butt. "I'm mysterious. Nobody knows my personality," she says, continuing, "I'm one of the friendliest, nicest, people out there. I think I would gain another million (followers) if people really knew who I was."
Selter may not have to wait long, as her fame grows exponentially everyday. Having the most famous butt in the world could be just the beginning for the queen of the belfies, as Selter has become just the latest internet sensation to achieve notoriety beyond cyberspace.
By Matt Stinson
Join Matt on Twitter
Sources:
New York Magazine
Vanity Fair
Elle
Inquisitr