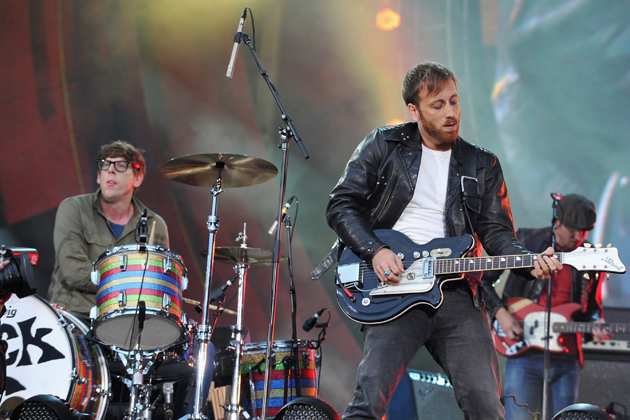 The Black Keys announced their new album will be called Turn Blue. The duo's eighth LP, oddly teased on Mike Tyson's twitter, will be released this summer on May 13.
Indicative of their creativity as a band, the announcement of the album came with a two minute YouTube video of a spinning pink record and a creepy hypnotherapist telling the viewers how he is our savior and messiah and will bring life into us. Other videos teasing the album, included the same hypnotherapist breathing heavily while lighting surges through him. Coincidentally, or not so coincidentally, Turn Blue will be coming out a week after The Amazing Spider-Man 2, which features a villian, Max Dylan, who gets electricity surged through him and turns blue to become Electro.
Drummer Patrick Carney also teased the album by posting Instagram photos of blue tinted people. The wonkiness is expected from The Black Keys. In 2011 to promote El Camino, the duo posted a 1994 advertisement for an El Camino car. A phone number was left which led to a recorded message by Carney describing the car in detail.
Turn Blue is definitely an anticipated LP. The band is fresh off three awards at the 2012 Grammys for Best Rock Performance, Best Rock Song for Lonely Boy, and Best Rock Album for El Camino. The record brought forth the garage rock they had perfected in previous works and added a layer of glam, funk, and rockabilly, showing off the duo's authenticity and musicianship. El Camino was really like taking a trip back in time to the 1960s and 1970s with such singles as Little Black Submarines, a hymn turned explosive rock 'n' roll track reminiscent of Led Zeppelin's Stairway to Heaven. There was the glam rock of Gold On the Ceiling, with its delectable fuzzy keyboards and hand claps. Lastly, their first single, the catchy, irresistible, and swampy Lonely Boy.
Since then, both Patrick Carney and Dan Auerbach have been maintaining a busy schedule. It was announced recently that Auerbach will be working with pop singer-songwriter Lana Del Ray on her new record, Ultraviolence. What role the Black Keys frontman has with her third album is currently not known. However, Auerbach has shown skills as a producer having produced music for various acts including Ray LaMontagne and Dr. John. Del Ray's last LP, Born to Die, featured above all else the first single, Video Games, a raw and emotional track that propelled the singer to instantaneous fame.
Carney himself has been taking a stab at producing having worked with pop duo Tennis on their 2012 sophomore album, Young and Old. He also co-produced Underneath the Rainbow by the Black Lips released just a few days ago on March 18.
The Black Keys will next be performing at the Hangout Music Fest in Alabama from May 16-18. From June to July they will be touring across Europe. In regards to their new album, no further details have been announced other than their first single, Fever, reported by Revolt to be released on Monday, March 24.
Commentary By Kollin Lore
Sources
Revolt
Rolling Stone
Rolling Stone 2
The Black Keys
Instagram