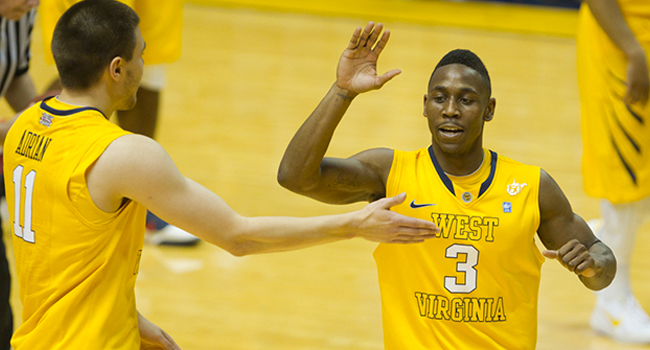 It happened with eventual national champion Connecticut in 2011, and it happened with national semi-finalist Wichita State last season. After handing Kansas their eighth loss of the season by a count of 92-86, West Virginia, too, may be poised to crash the Big Dance and do some damage. The Mountaineers (17-14, 9-9 Big 12) still have a lot of work to do to just get into the NCAA tournament, but if they can stare down Kansas, then very few other teams in the Big 12 can be considered that big of a threat.
The freshmen and sophomore-laden West Virginia squad, which does not have one senior, has definitely taken their lumps this year as they suffered through the growing pains of trying to mature and come together as a team. The hard knocks seem to finally be paying off though. Kansas is the third ranked opponent that West Virginia has beaten in the last month, also disposing of No. 23 Oklahoma and completely dismantling No. 16 Iowa State, whom they scored 102 points against and defeated by 25.
The Mountaineers definitely have the firepower to hang with any team in the Big 12, and probably any team in the nation. Their 78 points per game is good for No. 27 nationally, and they were the first team this season to have three players score at least 20 points against the Jayhawks (23-8, 14-4). Sophomore guard Eron Harris led West Virginia with 28 points and he was joined by junior guard Juwan Staten, who scored 24 points, and freshman forward Devin Williams, who pitched in 22 including 10 straight during a run in the first half. The 6'9″ forward also was instrumental by grabbing 13 rebounds.
After the game, Kansas coach Bill Self conceded that he believed Staten completely controlled the game. He also was impressed with Harris' play and thought that Williams was easily the best big man on the floor.
Along with dealing with growing pains, the Mountaineers have also been battling injuries all season. The contest with Kansas marked the first time that the entire squad was available in almost a month. In more ways than one, the contest was West Virginia's primary platform to declare that they are back and poised to crash the Big Dance. The Kansas victory was the team's first against a top 10 opponent since Jan. 7, 2012. 
After reaching the Final Four in 2010, the club was bounced from the NCAA tournament in the second round the following year and the first round in 2012. Last season, the team's first in the Big 12, the Mountaineers staggered to a 13-19 finish that resulted in the transfer of three highly touted freshman starters, Pat Forsythe, Tommie McCune and Paul Williamson. Staten, Harris and Williams have stepped in this season and given West Virginia something that they have not had in quite a while: hope. The trio has been called electric and fun to watch. Against the Jayhawks, at times, they seemed to score at will and control both the perimeter and the paint.
''They were terrific and then we didn't guard at all," Self said. "…Give them credit, they were a lot better than us offensively than we were [better than them] defensively.''
Even so, defense does continue to be West Virginia's Achilles heel. In the Kansas victory, for example, the Mountaineers squandered a 25-point second half lead and watched freshman Andrew Wiggins almost single-handedly will the Jayhawks to victory by dumping in 41 points, a Kansas freshman record. West Virginia is currently No. 116 among all Division I schools in opponents points per game. The Mountaineers allow just over 73 points per contest.
''When we get a little more experience, we'll handle [holding down leads] a little better,'' said West Virginia coach Bob Huggins.
West Virginia will have to if they think they are poised to crash the Big Dance. The Big 12 Tournament, scheduled to begin Wednesday in Kansas City, will no doubt be rife with pressure packed moments, and the Mountaineers have to excavate through it unscathed to secure a place in the field of 68.
Commentary by Jeremy Mika
Sources
Boston Globe