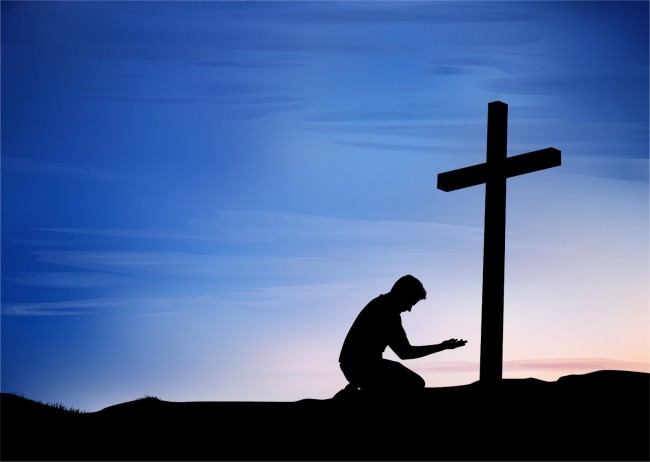 Jesus Christs cross serves a reminder of the atoning sacrifice that was paid  to cover  all the sins mankind has committed since the fall of Adam and Eve, through today, and into the future. Christs cross is the real meaning of Easter. Easter eggs and the Easter bunny have nothing to do with the real meaning of Easter, although it is fun for children to endeavor in these additions, it is the death and resurrection of Jesus Christ to which we celebrate Good Friday and Easter. Jesus was betrayed by a close friend, condemned by the religious leaders of the day, sentenced to death by Pilate, beaten beyond any human recognition as it says in Isaiah 52:14, forced to carry a rugged cross beam through the dusty and dirty streets of Jerusalem to Calvary, known as the Place of the Skull, and finally, crucified naked between two thieves. All of this was done out of Gods love and compassion for the human race that fell into sin because of the devils lie to Adam & Eve.
Now there will be some who believe that they are a good person, and indeed, they very well might be . . .Outwardly, by their actions. Yet inwardly, they are stained with the stench of sin as the next person. Isaiah 64:6, says a persons righteous acts are like a filthy rag. This depiction, in the cleanest way possible to describe in modern day wording would be likened to a woman's used tampon. Christ suffered on the cross exceedingly so that the stains would be washed away by this sacrificial shedding of Christs blood. Hebrews 9:22 states this as fact. Now, have people who are good outwardly given their life someone else? Most definitely! This too can be seen in the scriptures as found in Romans 5:7. But once again, the main focus regarding Easter, is the cross of Christ. So while it is admirable for a person to lay their life down for another, they too still need a Savior.
God knew since the beginning of time, that Savior was going to be needed to redeem mankind from Satan's hellish grip and so God sent Jesus, who was called Emanuel and the steps towards the cross was instigated was going to be needed. . From the fall of Lucifer, the temptation of Adam and Eve, and the death and resurrection of Jesus Christ. Yet today, there are those who will adamantly deny this took place and demand that any reference to the cross of Jesus Christ or Easter be removed because of how Separation of Church and State has been misinterpreted. The Bible has this to say to those who take this stance: For the preaching of the cross is foolishness to those who are perishing . . . Fallen mankind has been likened to stray sheep according to Isaiah 53:6 and stray sheep that have become lost due to their own stupidity, need a shepherd to bring them back home. Jesus is called the Good Shepherd who laid his life down for his sheep. No one should ever entertain the thought that Christ was weak. Christ was anything but weak. Imagine carrying the weight of the worlds sins on a persons back. Bench press that!! The cross, the shedding of blood, the death and resurrection of Jesus Christ is, and always will be the real meaning of Easter.
No one can make it to heaven on their own. No amount of good works will pay the cost to get into heaven. If that was the case,  Jesus suffered needlessly on the cross and then mankind could boast about how much they contributed to their salvation. It was, is, and always will be Gods infinite grace and mercy that saved people from having to go to hell after they die. God never sends a person to hell. They choose to go by rejecting Jesus' death on the cross to pay for their sins. It has been said that the distance between the mind and the heart is 18 inches, meaning someone, somewhere is going to miss heaven by 18 inches just because they had head knowledge and not heart knowledge about Christ's death on the cross and resurrection from the dead. Gods entire motivating factor in sending Jesus to suffer and die on the cross for the sins of the world, God did not want anyone to go to hell and be eternally separated from the presence of God. Hell was prepared for the Devil, demons, and fallen angels . . .Not people. God is so patient with people, not wanting any of them to go to hell needlessly, but have a way of escape. This escape plan was the cross of Calvary and the death and resurrection of Christ.  And that is the real meaning of Easter!
Opinion by John Thomas
Source:
Complete Jewish Version of the Bible (Printed)