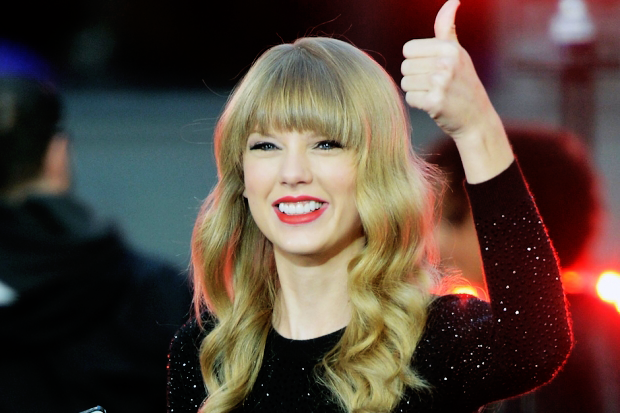 Taylor Swift took a quick trip to Columbus Ohio to attend one of her most loyal fan's, Gena Camerlengo, bridal shower on April, 13. The pop star surprised Camerlengo after declining an invite to her wedding ceremony in May, due to a scheduling conflict. Swift hopped on a plane to Columbus on the heels of her cameo appearance on Saturday Night Live on April 12.
Gena Camerlengo, who has been a long time fan of Taylor Swift, met her at concert meet and greets and had kept in contact since 2007 through social media. The 26-year-old bride-to-be shared photo's and updates on Twitter and Instagram during the party. Swift commented on the bridal shower being her first and the Camerlengo's last.
When contacted, Camerlengo stated that it was not any publicity stunt, and Taylor Swifts invitation to the loyal fan's bridal shower was legit. Swift did not come empty-handed she brought a red KitchenAid mixer and Le Creuset cookware, a framed watercolor with hearts with a lyric from her number one hit song Love Story, and handwritten recipes for Camerlengo and her future husband.
Taylor Swift is notorious for being very connected to her fan base. She often attributes her success and drive to her fans and honors them in interviews and acceptance speeches at award shows and on social media. At the Billboard Music Awards in 2013, Swift poked fun at her reputation for a shaky history in the love department by claiming her relationship with her fans has been the longest and most successful to date. Swift had also claimed to have followed an 11-year-old fan into a mall when she noticed the young fan wearing a Taylor Swift concert t-shirt. Swift told the young fan she had wanted to meet her. The girl stared in awe with no words until her mother interjected and told Swift they had traveled from Austin TX, just to see where Swift was discovered as a musician. Swift praises her fans for not being argumentative towards the media or 'haters' as Gaga's little monsters or Justin Biebers beliebers who often attack people on social media sites who say anything negative about the pop icons. Kelly Osbourne was a victim of the little monster threats when the Fashion Police made negative comments about the musician. Lady Gaga turned to Twitter to ask her fans to back off on the negative and hateful comments to other people stating that was not what she was about.
Swift was at ease at the bridal shower taking pictures with the guests, socializing with the bridesmaids and meeting the groom without taking the spotlight away from the future bride. Although Swifts invite was planned, it was a welcome surprise for Camerlengo who was kept in the dark about Swifts attendance by friends and family. Taylor Swift posed for selfies and group pictures with Camerlengo and the other attendants throughout the day.
Taylor Swift managed to work in a surprise appearance at a loyal fan's bridal shower amongst her incredibly busy schedule. Swift is preparing to take her RED tour to South East Asia which will kick off in China on May 30. She is also nominated for two Billboard Music Awards for Top Social Artist and Top Country Artist.
By Christina Thompson
Sources:
Hollywood Life
US
Taylorswift.com