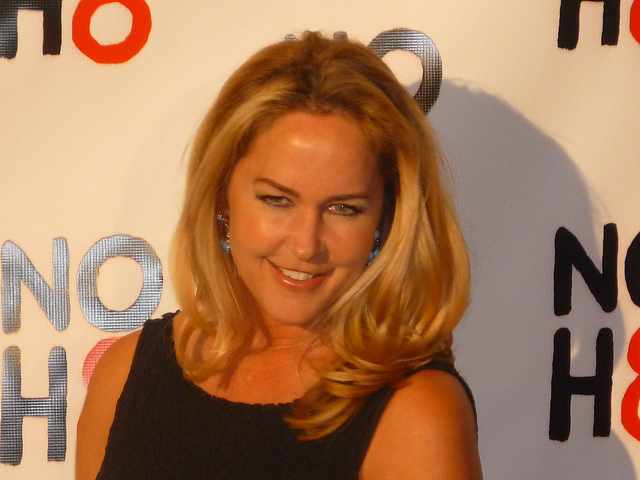 Erin Murphy, who played the beloved Bewitched character of Tabitha Stephens, has kindly agreed to do this interview for the readers of The Guardian Liberty Voice, talk about her years portraying Tabitha, and also talk about a new line of slimming, low-cal frozen cocktail beverages she's promoting, Slim Chiller's Skinny Freezers, that come in several delicious flavors, and a trip she'll be making to Las Vegas May 9th-May 11th for the 8th annual Lee's Beer and Tequila Experience.
Douglas Cobb: Erin, do many people still recognize you as being Tabitha Stephens, and come up to you on the street to ask for your autograph? Would you say that fame is more of a blessing or a curse in that regard?
Erin Murphy: People still recognize me all the time! Bewitched is one of the few television shows that has never been off the air. We filmed in the 60's & 70's and we've been on TV ever since. I think the small amount of fame that I have is definitely a blessing. I've had wonderful travel and work opportunities because of being an actress on a popular TV show and people love the show, so they're always pleasant when they approach.
Douglas Cobb: Bewitched is celebrating its 50th anniversary this year, as you know, Erin. Do you have one or more favorite episodes that you remember that you could tell our readers about? Did you like any of the Christmas episodes maybe more than some of the other ones?
Erin Murphy: My favorite episodes are the ones where we had other kids and animals on the set, where my character went to school, or popped into a storybook. My favorite Christmas episode was one called "Sisters At Heart," which was also Elizabeth Montgomery's favorite episode of the entire series. The episode dealt with prejudice and was awarded a special Governor's Emmy.
Douglas Cobb: You've spoken about your TV fathers to an extent in past interviews, and Dick York's battle with emphysema.
Did you act in more episodes of Bewitched with Dick York, or Dick Sargent? Would you describe how both of the actors and how Elizabeth Montgomery treat you as being more like how loving parents would, or was the relationship more strictly professional?
Erin Murphy: I worked equal time with Dick York and Dick Sargent, 3 years each, six total. I loved them both and definitely thought of all the cast members as extended family, not just co-workers.
Douglas Cobb: Besides Elizabeth and Dick York and Dick Sargent, were there any other actors or actresses on Bewitched that you really liked and got along well with, like Agnes Moorehead, Maurice Evans or Paul Lynde? Also, do you still get any residuals for Bewitched?
Erin Murphy: Agnes Moorehead was definitely my favorite. I loved her like a grandmother.
Douglas Cobb: I have read, Erin, that you could possibly have landed a role on The Waltons after the years you played Tabitha. What was it that you did instead? What other acting roles have you played?
Erin Murphy: I went to Girl Scout Camp! I did guest spots on shows like Lassie, over 100 commercials. As an adult I've worked quite a bit as a correspondent and television host. I just did a small part in an independent film and I'm doing a couple plays here in Los Angeles this summer.
Douglas Cobb: What is there about your husband's first name that is a coincidental tie-in with your years of being Tabitha on Bewitched?
Erin Murphy: Well my husbands' name is Darren and my TV dad was Darrin…
Douglas Cobb: Okay, Erin — to move on to a product you've been passionate about of late — what is there about the frozen cocktails called Skinny Freezers that you liked, that told you this is a product you'd like to promote? They are delicious — how did the inventors of them come up with the idea? Do you have any personal favorite flavor?  
Erin Murphy: I met the owners of Slim Chillers at an Award Show Gifting Suite last year and I immediately fell in love with the products! They taste great, they're low calorie and they're fun! We have a lot of parties and events at our ranch  and thought that Slim Chillers were the perfect cocktails to serve. My relationship with the company grew organically and now I not only grace their posters, I'm an equity owner in the company. I love all the flavors, but if I HAD to choose a favorite: watermelon lemonade.
Douglas Cobb: Where will you be at during the 8th annual Lee's Beer and Tequila Experience so that your fans and anyone who likes adult frozen beverages might be able to meet you? Will you be able to give out any autographs, or have people take their photos with you?
Erin Murphy: I'll be right there at the Slim Chillers booth in the midst of all the excitement, talking about the product, giving samples and signing autographs. come say 'Hi!'.
Douglas Cobb: If anyone asks you, would you still consider acting in a TV series or a movie? Have you written any books about your life that our readers might be interested in checking out?
Erin Murphy: I'd love to do another series someday. I've been reading scripts and trying to decide what my next project will be. I have no plans to write a 'tell all' type book, but I'm currently writing a business book on crowd-funding.
Douglas Cobb: Thanks very much for agreeing to do this interview with me, Erin! It's been a genuine pleasure meeting you, and listening to you talk about your years of playing Tabitha Stephens in Bewitched! Also, especially with the summer heat approaching, and with America getting more weight conscious, the Skinny Freezers you are promoting sound like a great way to beat the heat and not gain too many pounds in the process. The entire staff at The Guardian Liberty Voice wish you much happiness and success, and a fun weekend in Las Vegas!
Written by: Douglas Cobb