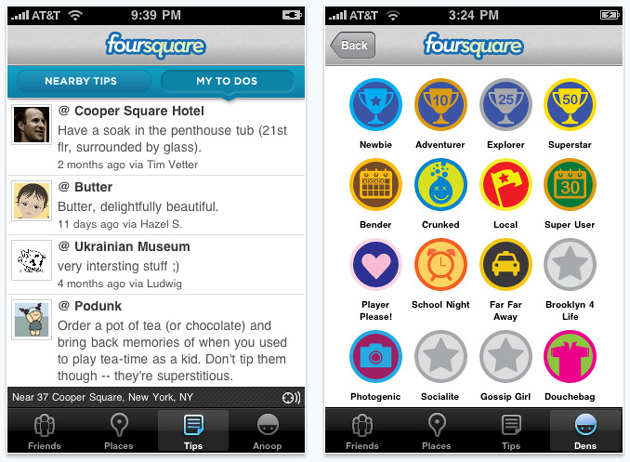 Foursquare, the app that introduced and popularized the word "check-in" will be splitting into two separate parts, the company announced on Thursday. A brand new app, Swarm, has been introduced, which will be a "social heat app" that will help its users to find their nearby situated friends and check-in to share their locations. The new app will have nothing to do with check-in features and will focus only on discovery and exploration, the company said.
According to the CEO of Foursquare, Dennis Crowley, the company was "never" meant to rely on a "check-in button" alone and neither was this their ultimate goal. He said that in 2009, users had to declare their own locations via the check-in app because the phones did not have power or accuracy to pinpoint the location of the user automatically. He said even Foursquare, as an application, did not have ample data to be able to highlight the exact location of the user or to be able to tell what venues were nearby. According to Crowley, technology has come a long way in 2014 as compared to 2009 and therefore, the company also has better opportunities to explore new ventures.
In a related note, Foursquare had been struggling and facing tough competition from rivals like Facebook and Yelp and their user database has declined in recent times. The company tried to maintain their popularity by introducing a new paradigm around location sharing. However, it never took off and left Foursquare to consider other steps to keep the firm afloat in the rapidly changing technology industry.
After much consideration for the past six months – since November 2013 to be exact –the team decided to split the app into two separate parts. The new app, Swarm, which is expected to be released in one or two months, is completely different from Foursquare; the latter will continue to exist beside the new introduction.
The firm conducted a survey to study the habits of Foursquare users and discovered that "only 1 in 20 sessions had both social and discovery." Statistically, this means that only five percent of the app's users were using Foursquare to find friends or a restaurant. According to Foursquare's Vice President of Product Engineering, Noah Weiss, this study led the firm to decide to split their main app into two parts.
According to the company's vice president for product experience, Jon Steinback, the more the firm "played with the idea," the more they were convinced that Foursquare should be split into two to perform better functions since cramming up two purposes into one single app was damaging the popularity of the app.
This is a new trend that apps are following now. Recently, Facebook announced to split its chatting service from its main app and offer it only on Facebook Messenger, a completely separate app only for the purpose of chatting. Now Foursquare has jumped onto the same bandwagon.
Explaining this new trend of more single-purposed applications, Steinback said that he believed that mobile phones have forced this switch since people nowadays use a smartphone app to do specific tasks to get individual experiences. Moreover, during the months of testing, it was discovered that when the two app uses of Foursquare were divided, it made for a better app experience and was more efficient. The company will also be introducing "hooks" for smartphones, so that users can switch between the two apps with ease.
Interestingly, the head of Foursquare also said that they do not need people to check-in for them to collect data anymore. The CEO informed that they have collected five billion check-in information from users along with an additional five billion signals that would help the app to map out more than 60 million places globally. The company seems headed for the right direction since industry insiders predict Foursquare may make as much as $50 million this year as compared to $12 million last year.
The splitting of Foursquare into two separate apps seem all promising, but rival Facebook was a step ahead when it introduced its "Nearby Friends" feature, which is very similar to the newly introduced Swarm, just two weeks ago. However, Crowley is not worried. He said that just as Foursquare was not worried when Facebook had introduced check-in feature, they are not concerned this time either. He said not all users of Facebook are comfortable with sharing their exact locations with their massive friends' list and that is where Swarm and Foursquare play a pivotal role since they would only allow for passive check-ins with no pin-pointed location information.
By Faryal Najeeb