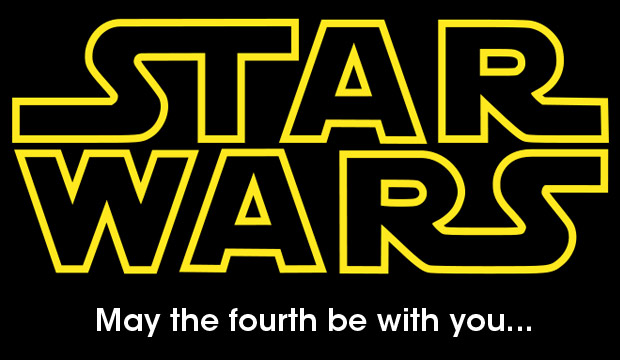 May the Fourth be with you, Star Wars fans! This Sunday, May 4th, is a day that brings a lot for Star Wars fans to celebrate, as more cast members were revealed this past week for the upcoming Star Wars VII movie, and J.J. Abrams (director) and Lawrence Kasdan (screenwriter) sent out a video message to Star Wars fans from England.
How did May 4th become a holiday for Star Wars fans?
Believe it or not, Star Wars fans have an unlikely politician to thank for the day of May 4th becoming a day of celebration of all things Star Wars-related: Margaret Thatcher. That's right, May 4th become a holiday to celebrate the love of, and admiration for, characters like Darth Vader, Luke Skywalker, Yoda, Chewbaca, Obi-Wan Kenobi and R2D2, because of Thatcher's victory on May 4, 1979, when she was elected the Prime Minister of England two years after the first Star Wars movie hit the theaters.
Someone placed an ad to congratulate Margaret Thatcher in the London Evening News. The famous words "May the Fourth Be With You," were used in the ad, words that sound quite a lot like those in Star Wars "May the Force be with you." After that, May 4th became, over the years, a day when fans of Star Wars would dress up as characters from the franchise, re-watch the movies, have Star Wars-themed parties, and otherwise celebrate their love of Star Wars.
Many fans believed that the rumored video that J.J. Abrams and Lawrence Kasdan were going to release on My 4th would reveal even more details about the cast of Star Wars VII. Most of the main roles have already been cast, but, according to sources who spoke with The Hollywood Reporter (in an article published on April 30), "at least one more female role" hasn't been cast yet.
However, J.J. Abrams and Lawrence Kasdan didn't reveal any news about anyone else who might have been cast in the brief video message. They did mention that more information about the casting would be revealed soon, though. That tidbit will likely lead to much speculation as to what the information will entail, and who will be joining the other new cast members who were announced this last Tuesday: Andy Serkis, Oscar Issac, Domhnall Gleeson, Adam Driver, Max von Sydow, John Boyega, and Daisy Ridley.
Most fans of Star Wars already know that original cast members Mark Hamill, Harrison Ford, and Carrie Fisher will be back to reprise their roles in Star Wars VII, but there has been no mention yet as to what roles the newer cast members will play in the upcoming film. The coming days and months are sure to bring many further revelations about the cast for fans to salivate over.
What will it take to make Star Wars VII a major success?
For Star Wars VII to become a major success and rival being among the box office money makers of all time, the stars have to be lined up just right. And, J.j. Abrams is doing all that he can to make sure that this happens, by bringing together many of the beloved cast members who made the original Star Wars trilogy a monster success.
Also, J.J. Abrams needs the rest of the cast to be equally as strong, and have some juicy roles, so that they will become new fan favorites and help carry future Star Wars movies. That has to happen, if the planned Star Wars movies to follow will also be box office hits.
Promotion and hype means a lot, as well, and the hype machine has been working overtime ever since J/J. Abrams was announced as the director for Star Wars VII, and that Disney would be taking over the franchise. There must be toys and games related to the movie, and meal specials at restaurants like Taco Bell. Doubtless, all of these things are already in the planning stages.
Even of greater importance is that Star Wars VII appeals to both all of the older, original Star Wars fans, and to a new generation of fans. That is already being done, with the casting of many of the original stars of the first Star Wars trilogy, and many newer, fresher faces. The special effects, of course, must be more special than any of the predecessors, and Star Wars VII needs to be be action-packed from the beginning to the end.
Star Wars VII is gradually shaping up to be a big box office success, but will it match the money making power of the original Star Wars trilogy? How excited are you, on a scale of one to ten, about going to see Star Wars VII? Please leave your comments below, and, of course, "May the Fourth Be With You!"
Written by: Douglas Cobb
J.J. Abrams and Lawrence Kasdan Video from London