Jimmy Fallon is at it again, and this time he is looking to Twitter Fans for inspiration for a new bit on The Tonight Show. He revealed a Prom night failure on his part and asked his followers to post on Twitter their Prom night failures for a chance to be on the show. Using #PromFail Twitter is alive with epic misses for what is supposed to be the highlight of everyone's years spent in school. They range from sad to funny and some are quite unbelievable. Many of the posts have to do with dates or lack there of, and one girl even tweeted about a text she received which said  'will you go to prom with me.' Sweet as it sounds, it was followed quickly by a text which read 'sorry, wrong person', thus making it a #PromFail.
If pictures are worth a thousand words, then it would be a good guess that Fallon will be looking for some great pictures of his fans prom night. The late night host will not lack for variety, there are pictures where the background is what makes it funny. There are pictures of  just plain terrible choices in how they dressed. This is a brilliant marketing ploy, as not only is he trending on twitter with this call for help, but most everyone that tweets will tune in to see if their prom night stories end up on the show. Like the girl who did not have a date (right) and took a picture of her favorite singer with her to prom.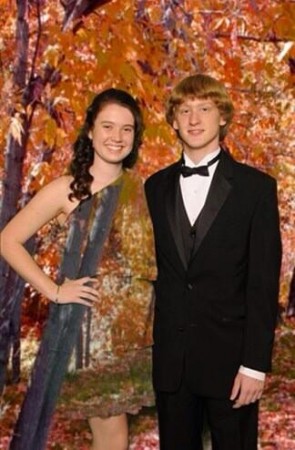 There are a lot of photo's of surprising failures in choice of clothing for both the boys and the girls, and it is not what you might think. These pictures go way beyond short, tight, and gaudy, and enter into the 'I can't believe I wore that' category. Like the picture (left), where the happy couple posed in front of a green screen and she wore green. How about matching outfits? That does not sound too bad, unless you are the couple in the photo shown below, matching and looking like two parts of a triptych is just too much. Jimmy Fallon looking to Twitter fans for inspiration for a bit on his hit Late Night show is proving to be a huge success.
With thousands of Tweets coming in, his team will have a full time job sorting through this bit of marketing genius to find the diamonds. There are some extremely funny tweets out there and it is going to be a huge task determining whose might make the show. Will it be the lady that went to the beach after prom and her group built a bonfire, not noticing the tide was coming in until the fire went floating out? Maybe the guy who simply states that his parents prom night ended up with him being born nine months later. It is all good stuff and definitely worthy of mention on the night time talk show. Many will be watching to see how he turns this into the next epic skit that will go viral within hours of the show. Fallon has mastered the art of utilizing social media to enhance his ratings and views to his video's. He is undeniably funny, and he will have tens of thousands glued to the set to see if they made the cut.
Opinions by Kristi Cereska
Sources:
Twitter