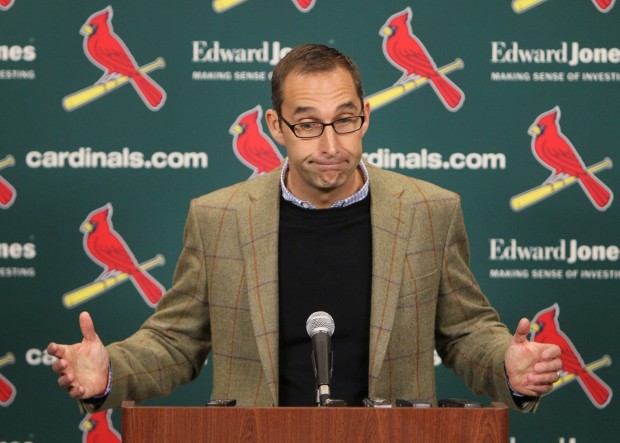 St. Louis Cardinals general manager John Mozeliak is facing his first real test at the helm of the St. Louis Cardinals. Never mind letting Albert Pujols leave, that was more the work of owner Bill DeWitt Jr. than it was Mozeliak. The man in charge of the St. Louis Cardinals organization has another challenge coming his way in the form of friend and manager Mike Matheny.
Matheny was hand-picked by Mozeliak and they are close. The Cardinals general manager makes no secret of his admiration for Matheny, and the Cardinals manager has done little to disappoint Mozeliak as he enters his third year as the Cardinals skipper. Two trips to the playoffs and a World Series appearance buys a lot of credibility. There is no drama or friction here.
Maybe there should be though. Matheny has a roster that is among the best in the majors and a minor league system that very few organizations in major league baseball can compare with. Put bluntly, the Cardinals have a lot of talent and little to show for it this season. It is early and Matheny likely enjoys as much job security as any manager in baseball, but Mozliak needs to cut off a couple of disturbing trends.
Matheny is not using all the players on the roster and is also burning out the back-end of his bullpen. Case in point; the Cards skipper used closer Trevor Rosenthal four consecutive days last week. Three straight days for a closer is nearly unheard of in baseball, let alone four. During that time Rosenthal made over 100 pitches. Matheny is asking for trouble here and risking injury to one of baseball's best young arms.
This is where Mozeliak faces his first real test in St. Louis. The Cardinals general manager has long espoused the belief that what happens on the field is up to the manager and out of his domain, but Mozeliak has to hold Matheny accountable here. The Cardinals manager inserted right-hander Pat Neshek in eighth inning and Neshek finished the inning on just three pitches. Why not let him at least start the ninth and save Rosenthal? Neshek had not pitched since the prior Tuesday and had a day off the following day. Instead Rosenthal came in and gave up two hits and two walks as the Atlanta Braves tied the game and later won it. So not only did the Cardinals manager let his prize young closer pitch for the fourth straight day, but the strategy failed.
Matheny has been an excellent leader and is both liked and respected in the Cardinals clubhouse, but his inexperience shows at times. His predecessor, Tony LaRussa was a master at keeping his roster fresh and using all of his players. Not so for Matheny. Neshek was one example. Another at the moment is Daniel Descalso, who continues to languish on the bench despite a penchant for hitting right-handed pitching well. Peter Bourjos and Kolten Wong went through similar stretches this season before gaining playing time again. Mozeliak had to send Wong down to AAA Memphis to make sure the young player was getting at bats and staying fresh.
Granted Bourjos and Wong were not hitting well at the time but neither was anybody else on the team. Matheny has also consistently double-switched the middle of the order late in close games. It is one thing to switch out an average hitter in order to move the pitchers batting spot but Matheny does this far too often with hitters like Matt Holliday and Allen Craig.
Jason Motte will be put on the active roster Tuesday as the Cardinals open a three-game series with the Cincinnati Reds. Motte is returning from Tommy John surgery that cost him the entire 2013 season. If he can return to his previous form this would be a huge boost to the bullpen as he will likely take over the eighth inning right away for Matheny. In addition to helping Rosenthal, Motte's return should give a break to Kevin Siegrist and Carlos Martinez, both of whom have also been overused this season by the Cardinals manager.
Mozeliak wants to stay out of on the field matters and justifiably so, but there is a disconnect with the roster Mozeliak has handed to Matheny and the roster Matheny actually uses. In the case of Rosenthal, Mozeliak has to step in and make sure it does not happen again. Who knew the first real test of Mozeliak's tenure as general manager would be to stop his friend and the hand-picked choice as manager from burning out a young arm?
Commentary by Mick Varner
Guardian Liberty Voice Sports Writer covering the St. Louis Cardinals
Sources:
St Louis Today
St Louis Cardinals