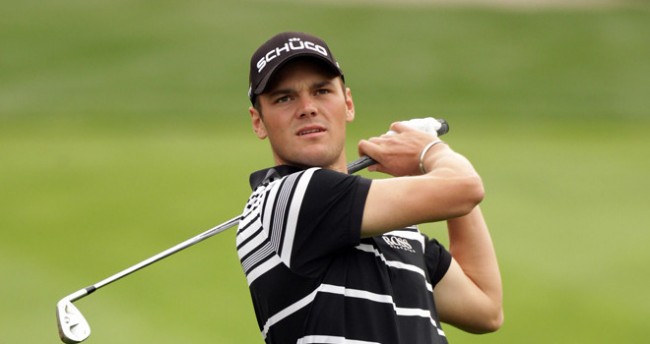 Former PGA champion Martin Kaymer fired a course record-tying 63 on Thursday to take the first round lead at The Players Championship at Ponte Vedra Beach, FL. Kaymer began on No. 10 and was at 2-under 34 at the turn. He went on to birdie seven of his final nine holes to finish at 9-under par for the day.
In addition to tying the 18-hole course record, his 29 was the first time anyone had broken 30 on nine holes at TPC Sawgrass. Kaymer told the Golf Channel he had no idea that his final putt was one for the record books: "I just wanted to finish as good as possible and it was just a tap in. It was really nice but I didn't know about the 63." He was realistic about his round, however, and said that he is careful not to read too much into it, "It's only the first day and I played well and it's very difficult to keep up that score…I have been playing golf for many years knowing that this is not normal. It's a big boost to start off like this and I'll just try to hit fairways and greens.I just don't want to think too far ahead, it's a nice run of golf, that's it." Kaymer has never missed a cut at The Players Championship.
Until Kaymer's record-tying round on Thursday afternoon, Russell Henley had been the talk of the tournament. Henley went out with the early groups in the morning and had nine birdies and a double bogey en route to a 7-under par 65. He is in second place by two shots after the first day and, like Kaymer, knows there is a long way to go before Sunday, "There's three more days and so much can happen on a course like this. I'm going to try and stay in my routine, go practice a little bit…sleep in tomorrow and just keep enjoying the game."
Henley is one shot ahead of South Korea's Sang Moon-Bae, who had 66. Eight players are tied for fifth place at 5-under par after the first day. Included in that group are Jordan Spieth, U.S. Open champion Justin Rose, Sergio Garcia and Lee Westwood. Garcia is a past winner of The Players Championship, and he said having success at TPC Sawgrass helps: "When you come to a golf course where you feel a little bit more comfortable…for the most part I can see what I want to do and that makes it a little easier to make my mind up." Garcia was helped to his 67 by a string of four birdies in a six-hole stretch on his opening nine holes.
Phil Mickelson has some work to do to get back into contention. He had bogey on his first hole, No. 10, and never got into red numbers. He made it to even par with a birdie on the fourth hole, but had three more bogies to finish the opening round at 3-over par 75.
Kaymer's 63 on Thursday tied the record at TPC Sawgrass that is held by three other golfers at The Players Championship. The others are Roberto Castro (2013), Greg Norman (1994) and Fred Couples (1992).
Golf Shots is a daily series which provides analysis and commentary on the PGA tour and golf-related topics all year long.
Commentary by Chuck Podhaisky
@Chuck_pod
Sources:
CBS Leaderboard
Golf Channel
Reuters