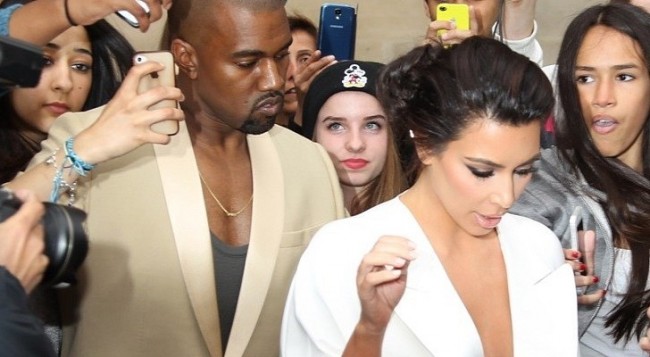 In the old days, a soap opera was a fictional foray into the land of the rich and scandalous where marriages and divorces were timed with ratings sweeps periods. Now, the Kim Kardashian clan and their compadres have become a real life soap opera that millions apparently follow in lieu of Dallas, Dynasty and All My Children.
If you look up Kim Kardashian on Google, it lists her as a "television personality." Television personalities traditionally are regulars on the tube who usually have a memorable feature or gimmick (Buddy Valastro's baking boss enthusiasm, Gene Shalit's mustache), have a legendary style (Barbara Walters or Andy Rooney), or are consistent authorities and personality that people turn to for their impact and advice (Jim Cramer, Dr. Oz and Oprah Winfrey). Many, however, think those personalities have some sort of talent. But, no one has suggested that the Kardashians have anything going for them except looks and a topsy-turvy domestic life. So, where do Kim and her family fit in and why does anyone care?
There have been their various "reality" shows, forays into acting, some attempted Dancing with the Stars, their boutique D-A-S-H, as well as the drama or trauma of their personal lives, relationships, marriages, break-ups, etc. All this, with a public watching like it's the "Who Shot J.R." episode of Dallas or the movie Titanic, waiting for the latest shocker or impending tragedy. It's like watching an accident scene, waiting to see what happens next, how bad the cars and people are affected, etc.
The Hollywood Reporter summed up the fascination with all things Kardashian by noting that half of America does eye rolls at the mention of them, but the remaining half "worship at the altar of a family that unabashedly embraces, celebrates and monetizes" being famous for being famous. They take the fame to a new level with their lack of filters or care at what people think. Kim Kardashian's extravagant second wedding, the event where the television hype leading up to it lasted longer than the 72-day marriage to basketball star Kris Humphries, and aftermath seemed straight out of the best daytime soap operas.
Then, along came Kanye West, a recording artist fresh from his own spate of bad publicity for crashing Taylor Swift's moment in the spotlights at the 2009 MTV Video Music Awards. The soap opera continued when Kim became pregnant a few months later with West's child, and her divorce from Humphries not final in the courts. She gave birth to their daughter, North West.
Ultimately, the Kim and Kanye saga and their followers moved on to the next episode of their soap opera the over-the-top nuptials. It was long rumored that the couple had rented the ornate Château in Versailles in France for the wedding (it turned out to be merely for a pre-wedding party). The actual wedding was at the Forte di Belvedere, a Medici family palace from the late 1500s in Florence, Italy, versus the newer (by about 100 years) palace near Paris.
It remains to be seen if the fireworks display they had at Versailles was a precursor for the next chapter. Maybe Kim and Kanye will settle into a quiet married life. But, the only reality in this show is that they enjoy the limelight, so expect the Kim Kardashian and Co. soap opera to stay on the air for some time to come.
Opinion by Dyanne Weiss
Sources:
The Hollywood Reporter
Los Angeles Times