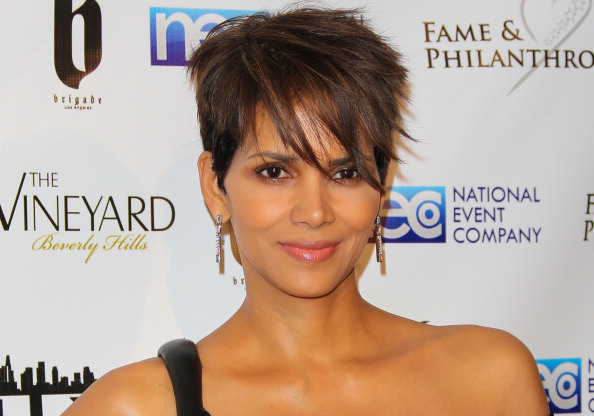 Actress Halle Berry is being forced to dig deep into her pockets and pay up more that $200,000 a year in child support to her ex-partner, the former Calvin Klein model, Gabriel Aubry.
Berry and Aubrey, who never married, share a six-year-old daughter named Nahla and a Los Angeles court  is ordering the actress to pay Gabriel Aubry a total sum in the amount of  $16,000 per month. According court records,  Berry must make payments to Aubry until their daughter reaches the age of 19 or graduates from high school. Under the terms of the ruling, Berry must also pay full-out for little Nahla's private school tuition while the couple have reached a mutual agreement to share the cost of her health care. Halle Berry, currently appearing in the latest X-Men film will also have to cough up expenses that will cover Aubry's legal fees retroactively that are said to be ranging from $115,000 and $300,000.
Things have gone pretty sour for the pair that met on a photo shoot for a Versace campaign back in 2005 and quickly became romantically involved in a three-year courtship that resulted in the birth of baby Nahla in 2008. 47-year-old Berry and 38-year-old Aubry have been in an ongoing battle since their tumultuous split in 2010. Things went from bad to worse of the estranged couple when on Thanksgiving 2010, Gabriel Aubry received a vicious beating from Halle Berry's then finance (now husband) Olivier Martinez. Aubry filed a restraining order citing that Martinez had threatened his life.
Aubry and Berry have been embroiled in an ongoing custody battle over their baby daughter. Halle Berry married the french native Martinez and the couple gave birth to a son eight months ago. Following marriage to Martinez last year, Berry and planned to move to France and take young Nahla, however, Aubry who is a Canadian national now living in the United States, has been working with the courts to keep Berry from taking the minor child out of the continent.
Gabriel Aubry's legal win sets a new and  unprecedented victory for men who have been usually on the other end of custody and child support cases forced to dole out huge sums of money to the former women in their lives. Halle Berry, one of the highest paid Hollywood actress has a reported net worth of $70 million which includes not just money she makes working in films but also earnings that the beauty collects from endorsement deals with cosmetic companies like Revlon and former endorsements with perfume company Coty and the fashion brand Versace.
While paying $16,000 a month may appear like a mere drop in the bucket for a celebrity of Berry's wealth and status, many question just what incentive will Gabriel Aubry now have to go out and earn a living for his daughter. Some argue that a six-year-old girl does not take $200,000 a year to raise and Aubry will now be able to live a lavish lifestyle off of his daughter.  Others argue that while Aubry is a man, his circumstance is no different from women who were one-time former partners of famous men now sitting back and raking in big bucks off of their children.
By Hal Banfield
Sources: