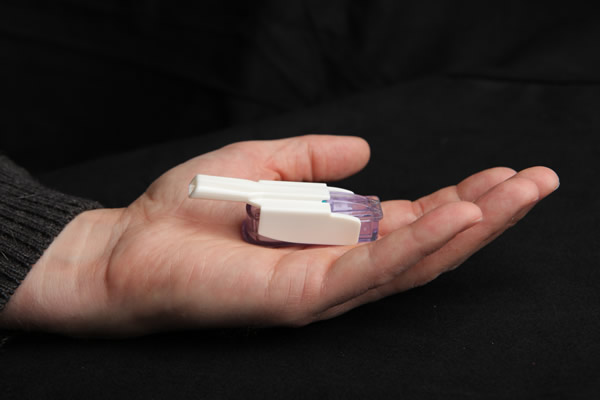 MannKind Corporation finally gains U.S. Food and Drug Administration (FDA) approval for its inhaled insulin drug Affreza. The company has finally achieved this goal after almost eight years, several obstacles, and two FDA rejections, most recently in 2011. At that time, the FDA asked for more clinical trials.
Afrezza is a powder that is delivered into the lungs via a small inhaler that will be used most often to help manage blood sugar levels at mealtimes. The FDA has approved it for treatment of Type 1 and Type 2 diabetes. It is more fast-acting than insulins that are injected such as Novo Nordisk's Novolog and Eli Lilly and Company's Humalog.
The inhaled drug will come with the strongest advisory in its boxed warning. The warning explains the risk of Affreza causing airway constriction in those with chronic obstructive pulmonary disease (COPD) and asthma. Those with these lung diseases should not take Afrezza, according to the prescribing information. To avoid Afrezza being taken by those with unknown lung diseases, doctors are advised to do a physical exam and take a detailed medical history. Smokers and those who have recently quit smoking will also be advised against using the inhaled insulin.
The quest for FDA approval has been a tough one for MannKind Corporation. About $1.8 billion was spent on development of the drug. Billionaire-inventor and Mannkind's CEO and biggest shareholder Alfred Mann, 88, spent about $975 million of the $1.8 billion from his own personal fortune to keep the company alive.
In 2004, Mann took the company public. The share price (MNKD:US) has been a rollercoaster of highs and lows going from $21.70 to as low as $1.60 since MannKind Corporation started late-stage clinical trials eight years ago. In 2006 Pfizer won FDA approval for its inhaled insulin Exubera, which was expected to generate billions of dollars for the company. The drug was later withdrawn due to its bulkiness, which patients did not like.
Although MannKind Corporation has gained FDA approval for its inhaled insulin, the company is still required to conduct more studies, which may sideline potential partners due to these additional costs. Approval of Afrezza was recommended in April by the FDA advisory committee, though analysts insisted that more studies were needed to show the drug's safety over a long period of time. The four added studies will include: one to assess any increased risk for heart problems and lung cancer, one to assess Afrezza's efficacy and safety in children, and two to further investigate how the medication works and is dosed inside the body.
Alfred Mann said he is excited for patients and Afrezza offers much potential to change diabetes treatment. He feels vindicated in the FDA's approval of the inhaled insulin. Mann explained that the approval validates the many years of commitment and research that went into Afrezza's development. Chief Financial Officer Matt Pfeffer said of the FDA decision, "It's very gratifying."
FDA approval for the inhaled insulin that MannKind Corporation has gained is good news for the 29 million Americans who suffer from diabetes. There are also 86 million Americans who have prediabetes, in which blood sugar levels are abnormally high, but not enough for a diabetes diagnosis.
By Twanna Harps
Sources:
Bloomberg News
Reuters
L.A. Times