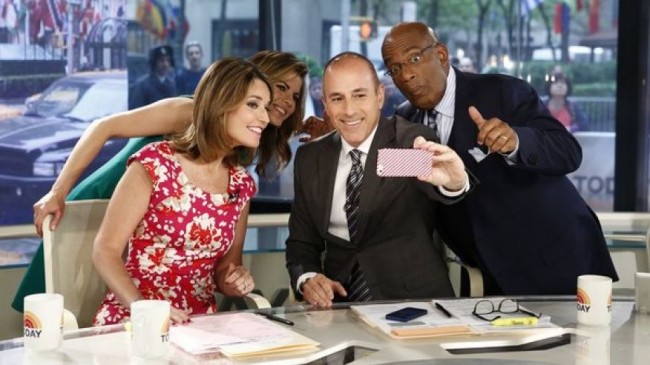 NBC's Today show co-host, Matt Lauer, signed a multi-year contract extension, though the network did not disclose details about the terms of the extension, such as how many years it added to his contract, or how much money he will be earning. It is rumored that Matt Lauer, who got his last contract extension in 2012, is one of the highest-paid TV news personalities. He has been a co-host on Today since 1997. The New York Times was the first media source to report on the contract extension.
Although NBC has not released the actual figures as to how much money Matt Lauer will earn under the latest contract extension, inside sources have stated that he will likely continue to earn around $22 million to $25 million a year.
Knowing that his previous contract extension was running out in a few months, Matt Lauer, 56, had announced to his bosses at NBC last week that he would like to continue being the co-host of Today. It didn't take very long for Lauer and the NBC news division execs to come to terms on a new contract extension. On Thursday, he told everyone else involved with the Today show that he had gotten a contract extension and would be staying on as the show's co-host, according to an anonymous NBC executive.
According to NBC News President Deborah Turness, the network was "thrilled" that Matt had decided to remain with the Today show. She added that she couldn't think of anyone other than Matt Laur that she  "would rather have in the Today anchor chair."
Matt Lauer began his stint at NBC's Today show in 1994 as a news anchor. In 1997, Lauer took over the job of co-host from the departing co-host, Bryant Gumbel. He called his job "the best job in broadcasting."
Lauer is currently co-hosting Today with Savannah Guthrie. His previous co-hosts have been Katie Couric (1997-2006), Meredith Vieira (2006-2011), and Ann Curry (2011-2012). The Today show was the highest-rated morning news show for two decades until Good Morning America (ABC) finally took over the number one spot in 2012. The negative publicity following Ann Curry's being removed as the show's co-host likely played a role in the Today show's falling to the number 2 spot.
Though Today has gained back some of the ground that they lost in the ratings, Good Morning America still maintains the lead, according to the Nielsen company. Despite Today remaining in the second place, NBC apparently felt that the fall in ratings wasn't Matt Lauer's fault, and that the Today show would be better with him than without his staying on as the co-host. Reportedly, research that the NBC news division conducted indicated that viewers would stop watching the show altogether if Matt Lauer left as the co-host.
Also a factor in NBC's decision to keep Matt Lauer on as co-host of Today was that even though it's in second place in ratings after Good Morning America, Today gets paid a higher rate from advertisers for its commercials than its rival, GMA.
Co-anchor Savannah Guthrie is scheduled to go on maternity leave in a few months, but when she returns, NBC execs are hoping that she will boost Today's ratings much as Jane Pauley and Joan Luden did after they returned to Today following the births of their babies, possibly enough to take over the ratings lead from Good Morning America.
With Today show co-host, Matt Lauer, signing another contract extension, which some media sources have stated is likely for another two years, he and his co-host Guthrie are solidified as being Today's co-hosts for the near future. The combination of Lauer and Guthrie just might succeed in retaking the number one spot in the ratings from Good Morning America, but, even if it doesn't accomplish this lofty goal, Today still attracts mega advertising dollars for NBC.
Written by: Douglas Cobb
NewsSentinel.com
SeattlePI.com
SanJoseMercuryNews.com