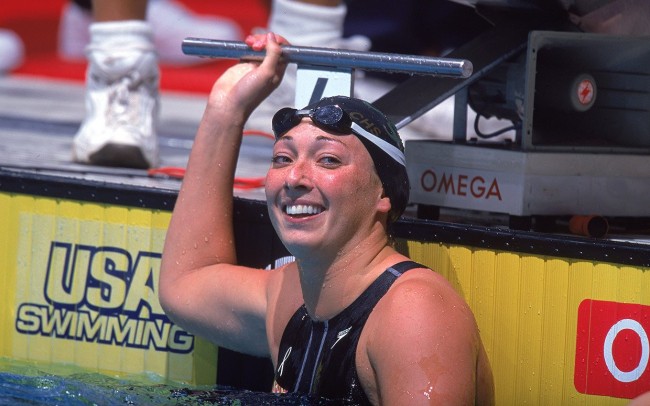 Olympic swimmer Amy Van Dyken Rouen was tragically injured in an ATV accident on June 6 in Show Low, Arizona, and suffered a severed spine from the ordeal. The Colorado swimmer previously won a total of six gold medals at the Olympic Games. According to reports, the accident caused her spinal cord to sever at the T-11 vertebrae, luckily just missing her aorta. After emergency surgery and spending one week in intensive care at Scottsdale Healthcare Osborne Medical Center, Van Dyken Rouen seemed to be in good spirits, posting photos of herself on Instagram sitting up in a wheelchair and smiling. But the question that even doctors are not able to answer yet is: will Olympic swimmer Amy Van Dyken walk again?
Van Dyken's husband, Tom Rouen, was a punter for the Denver Broncos.  He stated that they are still unsure of whether or not she will be permanently paralyzed and are taking it "day by day." After the accident, Van Dyken Rouen told emergency staff that she was unable to feel anything physically touching her lower extremities or wiggle her toes before being airlifted to the Scottsdale hospital.
The former Olympian will transfer back to Colorado in order to do her rehabilitation at Craig Hospital in Denver. Dr. Venu Akuthota, professor of physical medicine and rehabilitation at the University of Colorado Hospital, said that there was a good chance that Van Dyken Rouen could walk again. He continued by saying that spinal cord injuries usually have some degree of nerve functions, so there are some muscles that the patient can still use. In addition, aides such as crutches, a brace or other devices can assist in the walking process. "Being an athlete is going to help her because she will have the perseverance to really stay with the rehabilitation. She will know what it takes to go to a limit and then beyond," Akuthota said.
NCAA swimming champion Dave Denniston, who has been a close friend of Van Dyken Rouen since high school, understands exactly what the Olympian is experiencing. Denniston almost qualified for the Olympics twice before breaking his back in a sledding accident. Although Denniston is now paralyzed, he said that the most difficult part after his injury was adjusting to the unknowns and his new way of life. Soon after, Denniston participated in the 2008 Paralympics in Beijing, and is currently coaching Paralympic swimmers at the Olympic Training Center in Colorado Springs, Colorado.
Denniston also went through his rehabilitation treatment at Craig, so he knows the frustration that many people go through while struggling to regain their physical strength after a severe injury. Whether Olympic swimmer Amy Van Dyken will walk again is still not yet determined, but Denniston said the mental toughness that drove her as an athlete will help her to focus on healing quicker and push her harder to learn new ways of living through physical therapy.
Amy Van Dyken Rouen was the highlight of the 1996 Olympics; she established herself as the first American woman in history to attain four gold medals in a single Olympics. She then won two more gold medals at Sydney prior to retiring from competitive swimming. Van Dyken Rouen went on to co-host Fox Sports Tonight on Fox Sports Radio with Rob Dibble until the end of last year.
Van Dyken Rouen may have a difficult road ahead, but her positive attitude and fighting spirit are motivating her and keeping her strong. Whether Olympic swimmer Amy Van Dyken Rouen will walk again is still up in the air. Regardless of the outcome, Van Dyken Rouen is just happy to be alive.
Commentary by Amy Nelson
Sources:
AZ Central
9 News
Fox News
Fox Sports