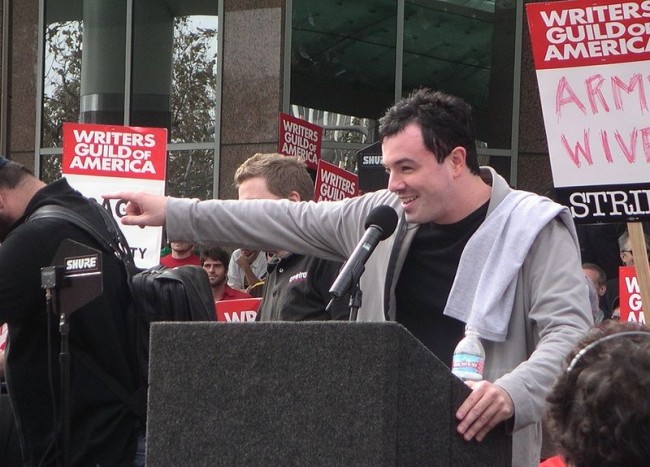 Seth MacFarlane is no stranger to controversy. The polarizing content creator took his newest leap of faith with the frontier flick A Million Ways to Die in the West, his directorial follow up to Ted, the 2012 comedy blockbuster. His new film is a continuation of the high-risk career that MacFarlane has developed for himself over his career which spans over two decades.
As publicized on the initial showing of "CNN Spotlight: Seth MacFarlane" on Friday, MacFarlane began his career as an animator and writer for Hanna-Barbera shows, including the cult classics Johnny Bravo, Cow and Chicken, and Dexter's Laboratory. MacFarlane was given his big break in 1998 when Fox studios picked up his Family Guy pilot episode for a slot following the 1999 Super Bowl. Fox gave him a meager $50,000 to complete the pilot, followed by a $2 million-per-season contract.
While Family Guy was canceled in 2000, brought back again the following year, and the promptly canceled again by the reticent Fox, the show had already established itself through Cartoon Network reruns and DVD sales. Fox brought MacFarlane back in 2008 with an unprecedented $100 million contract to keep Family Guy and another MacFarlane brainchild American Dad until 2012. He became the most handsomely paid television writer with this contract.
As his contract at Fox expired, MacFarlane sought other career avenues to continue his high-risk, incendiary brand of comedy, including the Cavalcade of Cartoon Comedy, and Ted. His newest film A Million Way to Die in the West will similarly add to this canon.
His career notables do not stop there though. In 2013, MacFarlane was invited to host the Oscars, where the divisive humor MacFarlane has branded as his own was on full display. His Oscars performance was both lambasted as sexist and commended as being a risky but lucky move by the Academy to hire him on as host.
It would not be a surprise then to see splitting hairs over the new Western MacFarlane directed, co-wrote, and starred in. It is already poised to be a hot topic to see if A Million Ways to Die in the West will fare as well in the box office as the surprise success of Ted, the story of a grown man (Mark Wahlberg) and his anthropomorphic teddy bear, voiced by MacFarlane, which domestically grossed over $200 million.
One of the big draws to the new film of course is the fact that MacFarlane will for the first time in his career star as lead actor. Co-star Charlize Theron, who plays an outlaw gunslinger, had this to say about MacFarlane: "He's fantastic … there was nothing about him that said to me he was a first-time actor … I think we were all very impressed by just how effortlessly he did all of it."
CNN Entertainment called MacFarlane a "renaissance man" for his notorious versatile talents, which include impressions and a penchant for big band music, the genre of which MacFarlane has released an album of entitled Music Is Better Than Words. Although his talent and ambition are difficult to challenge, his brand of humor and audience-reaching certainly has been criticized. What is certain is that MacFarlane has continued his high-risk, high-profile career with the new film A Million Ways to Die in the West.
By Jesse Eells-Adams