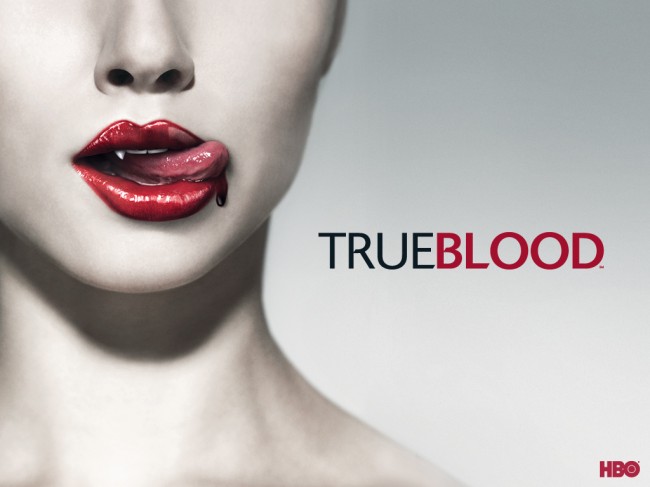 The 7-year-old HBO series, True Blood, began its final season on June 22, but it seems that the series may take a turn to the Broadway stage after it comes to an end on television. True Blood: The Musical is a project that is in its very beginning stages of production.
Nathan Barr, the composer of all seven season's instrumental scores, brought forth the idea of bringing True Blood to the stage. When pitching the project to HBO and Alan Ball, the creator of True Blood, Barr stated he wanted to go back to the roots of the show when creating the musical. The plot of the musical is said to be focused around the telepathic waitress, Sookie Stackhouse, who is played by Academy Award-Winner Anna Paquin in the television series. Barr is faced with the challenge of trimming down the expansive seven seasons into a condensed musical staging appropriate for audiences to view in one sitting.
Barr has received some support for this project by co-stars of the series, itself. Actor Stephen Moyer, who plays Bill Compton in True Blood, supposedly aided Barr in composing samples of True Blood: The Musical to present to HBO and the show's creator. Moyer seems the perfect candidate to do just that, after displaying his vocal and musical talent in the live telecast of NBC's The Sound of Music starring Carrie Underwood.
In a year's time, Barr is aiming to produce a workshop for True Blood: The Musical in hopes of making its appearance on Broadway that much more of a reality. While saying the production is "Broadway-bound" is still a little presumptuous, Barr has much confidence in the work he is putting together. He states that he is not promising anything, but he is very excited at the direction the production is heading towards.
The trend of turning Hollywood media into works on and off Broadway is becoming more prevalent with each passing year. Within the past couple of Broadway seasons, there seem to be more productions based on other works than there are original productions. An example would include last season's Tony winner for Best Musical, Kinky Boots, which is based on a Hollywood feature film of the same name starring Chiwetel Ejiofor of 12 Years a Slave fame. Another instance is that of Tim Burton's larger-than-life picture, Big Fish, being adapted into a musical performance by Tony winner Susan Stroman. Many more musicals that have opened this season are based on Hollywood films and other such media including Heathers: The Musical, Bullets Over Broadway, The Bridges of Madison County, Disney's Aladdin, Hedwig and the Angry Inch, and Beautiful: The Carole King Musical which is based on the life of the beloved American singer and songwriter, Carole King.
The same can be said for Hollywood scooping up pieces of work from the Broadway repertoire to recreate productions in their own way. Movie musicals are becoming a popular craze when it comes to new works Hollywood is putting forth. The immense success generated from 2012's film adaptation of the musical version of Les Misérables could be held responsible for Hollywood's decision to focus on creating more movie musicals. The Tony-winning musical Jersey Boys has been adapted into a film by legendary filmmaker, Clint Eastwood released in theaters on June 20. Stephen Sondheim's enchanting fairytale musical, Into the Woods, will be released as a feature film directed by Rob Marshall this Christmas season. Into the Woods stars a great amount of A-List talent including Meryl Streep, Johnny Depp, Anna Kendrick and Chris Pine.
Whether True Blood joins the ranks of Hollywood-to-Broadway media or not, it has enjoyed a very successful run on HBO, leaving its cast and creatives open to many more options for their future careers. The final season of True Blood can be seen on HBO Sunday nights at 9 PM EST/PST.
By Cody Collier
Sources:
Hollywood Reporter
E!
Washington Post
HBO Watch