Conspiracy theories are always great conversational pieces, especially when you throw in the death of Hollywood star, added with a pinch of mystery and a handful of suspicion. Here is a list of Hollywood's biggest and strangest deaths that whirl around conspiracy theories like water down a drain. The question is if any of these conspiracy theories have any clout or are they drummed up tales from fans who just cannot say goodbye?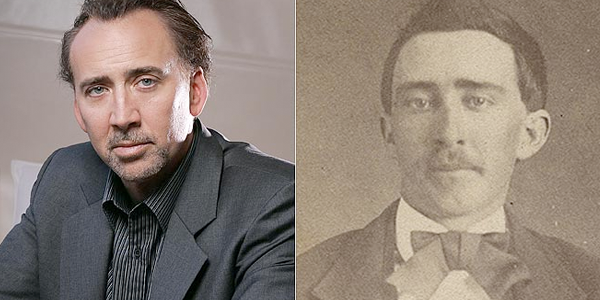 Nicolas Cage
Though Nicolas Cage is very much alive and well, this conspiracy theory is included for the odd fact that some think, maybe he should not be. The theory is that Nicolas Cage is a vampire and has been alive for over 150 years. The rumor began when Cage filmed Vampire's Kiss, a film directed by Robert Bierman, where the actor allegedly drank real blood and ate a live cockroach just to get into character. The rumors spread even faster when a picture appeared on eBay of a man in the 1870s beside one of Cage. The picture definitely shows a striking resemblance and was priced at 1 million dollars as well as this claim: "I believe it is him," the author wrote, "and that he is some sort of walking dead/vampire who reinvents himself every 70 years or so." The author continued, "150 years from now, he might be a politician, the leader of a cult, or a talk show host."
Needless to say the idea is more than far-fetched, but if there are vampires roaming the earth, this picture does not prove Cage to be one. Just by looking at the shape of the left ear clearly shows that the two images could not be of the same person. A very interesting idea, and the resemblance is uncanny but unless Cage does appear again in another 70 years, this speculation will have to disappear as quickly as the unsold photo did on eBay.
Bruce Lee
The legendary Bruce Lee was 32-years-old when he died and his death has been dripping with controversy ever since. Lee was in Hong Kong and met with Raymond Chow, a producer. Chow and Lee then headed to Betty Ting's house, Lee's colleague. Once Chow had left, Lee had started to express having a headache. It was then when Ting gave Lee an Equagesic, a painkiller that has both a muscle relaxant and aspirin. Lee went down for a nap and the actor never woke up. His death was ruled as "death by misadventure" and the martial arts actor's brain had swollen substantially. The actors early death sparked talk of murder involving the Triad society, branches of organized crime organizations within China. Another rumor evolved around one that spoke of a curse that was placed on his family. A theory that falls under suspicion, given our next big death in Hollywood that is shrouded under the guise of conspiracy theories.
Brandon Lee
Brandon Lee, son of the legendary martial artist Bruce Lee, died on March 31, 1993. The young actor was working on a film, The Crow, when he was shot on set in the final days of shooting. The accident occurred when the makers of the film decided to take real bullets and turn them into blanks. This goal, however, was apparently not achieved. Lee was taken to the New Hanover Regional Medical Center in Wimlnigton, NC where the actor underwent surgery. Lee was pronounced dead, approximately at 1:03 p.m., six hours later. With the family curse still in the gossip mill, many were speculating if this was the curse plating itself out.
Actor, Michael Massee was the actor who fired the fatal shot and afterwards, Massee left Hollywood for good. Lee died even younger than his father and with his death the theory of the Lee family curse, continues.
The Black Dahlia
Elizabeth Short was found murdered and found in a very disturbing position in a vacant lot. The actress's torso was cut in half and left naked for the world to see. The murder, to this day, has mystery wrapped around it like those of Lizzie Borden and Jack the Ripper. However the death of Short also circles and encompasses corruption, greed and blackmail. The first to arrive on the scene was not the police but a reporter and photographer, Will Fowler and Felix Paegel. The killer sent notes and letters to the police after the murder, taunting them. Some speculate that the reason no one was arrested for the murder, even though Dr. Hodel was the main suspect was because Hodel had names of police authorities which he treated for venereal diseases. The police thought if they arrested Hodel, the names would be released to the public. Hodel was later in an incest trial involving his 14-year-old daughter, though later acquitted.
Anna Nicole Smith
Anna Nicole Smith's death was a media sensation and the trial grabbed the public's attention as well. Smith was found dead on Feb. 8, 2007 in a hotel in Florida from an overdose of drugs. The rumors circulated due to the fact her son, Daniel, had also died from a cocktail of drugs just a few months earlier. Video's of Smith surfaced showing the actress obviously whacked out on drugs wearing clown make-up filmed by then boyfriend, Howard  K. Stern. Suspicion grew about her son's sudden death, followed by her own but no one was ever charged with murder.
Jim Morrison
Jim Morrison's death is surrounded in conspiracy theory. Some reports say the singer died on a club only to be carried back to his apartment by six of his friends so the musician could die there. Other reports state that he died of a heroine overdose in Paris while in a bathtub. To make things more curious, Morrison is buried in the famous Père Lachaise Cemetery in Paris, France. A cemetery, that foreigners are supposedly not allowed to be buried in, but there he lies…or does he? For the first three months after his death, Morrison's grave was unmarked. Rumors say that no one has ever seen the singer's dead body. The person who signed Morrison's death certificate could never be found and his girlfriend, the only one who allegedly witnessed his death, killed herself soon afterwards. Adding to the fire are the sightings of an old hippie who daily goes to the grave to see the amount of flowers left on the grave site. Maybe the rumors of Morrison wanting to be part of the Forever 27 Club are true? The Forever 27 Club is a group of artists who all died at the age of 27.
Andy Kaufman
Andy Kaufman was working on a script when he died. A script that would top anything else done in Hollywood ever before. The script was about a star who faked their own death and then resurfaced decades later. Kaufman knew that the story would only fly if the many years transpired between the death and the resurfacing in order for the script to hold any weight. Suddenly, reports came out that Kaufman had some bizarre cancer. One year later, the controversial actor in life was dead, so said the death certificate anyway. It has been thirty years since Kaufman's death so maybe one day soon, this conspiracy theory will be put to rest when Kaufman resurfaces alive. Of course if that did happen, just imagine how many conspiracy theorists out there would go crazy over the other celebrities people think faked their own death. Which brings us to our next death in Hollywood.
Elvis Presley
The King of Rock and Roll was found dead on Aug. 16, 1977. The singer/actor was found in his bathroom at Graceland, Memphis. During the investigation, it was reported that Presley crawled a few feet on the bathroom floor before dying. Some speculate that the King was killed by a drug overdose and others, a heart attack. However, there are many fans and people who believe Elvis is still alive. Elvis sightings have been popping up all over the Internet for years and years and there does not seem to be any slowing them down. Elvis, if alive, would be 79 years old, a sign that, eventually, the Elvis sightings will have to die down. Unless of course, he too, is a vampire like Nicolas Cage.
Marilyn Monroe
Marilyn's conspiracy stems from the aged old saying, "They knew too much." With relations between John F. Kennedy and Robert Kennedy, the volatile Marilyn was on dangerous ground. Her death has many holes and inconsistencies to help fuel the talk. First she was found naked in bed, then reports surfaced that she was actually taken to hospital, with Robert Kennedy, but died on the way. Not wanting a Kennedy to be in the presence of her death, they turned the ambulance around and placed her where and how she was found.
She was  found dead on Aug. 5, 1962 in her Los Angeles home. The autopsy said there was a cocktail of drugs and the coroner ruled her death as an accidental overdose. Whispers of the Mafia being involved, as well as the CIA, were being spread and the more her death is investigated the more shadows fall on the official report of the legends death. By far one of the most intriguing and captivating of them all, the death of Marilyn Monroe is one of the biggest conspiracy theories in Hollywood, and to this day, captures fans the world over.
By Derik L. Bradshaw
Sources: