Extreme Weight Loss on ABC tonight follows the year-long weight loss journey of David, from St. Louis, Missouri. David blames himself for the deaths of one of his younger brothers and also his sister when he was a teenager at just age 17. After they both tragically died, David felt an overwhelming sense of guilt and ate too much as a way to deal with his inner psychological pain. When David hit 413 pounds, he finally decided to write trainer and transformational coach and host of Extreme Weight Loss, Chris Powell– along with his wife and fellow transformational coach, Heidi — to ask for his help in his goal of losing half his body weight and qualify for the skin reduction surgery he will need.
Even when he was younger, he often acted as the caregiver for his siblings while his parents worked. One night when David was 17, he decided to go to a party and be with his friends, thinking that his brothers and sister would be okay for one night without his being around. He was wrong, because that night, one of David's two younger brothers managed to break into their dad's gun cabinet, get a weapon out of it, and accidentally shot and killed the other brother.
As if that was not enough guilt for any person to bear, only a few weeks later, David fell asleep before he was supposed to give his sister her epilepsy medicine. As a result, she had a seizure while she was sleeping that night and died. David felt an unbearable sense of guilt and that was when he began overeating.
At the start of Extreme Weight Loss, David goes back to his sister's old room and relives the terrible sadness of that night, as well as his younger brother's getting shot to death.
He says "I was supposed to protect them and instead, I left them." David adds "I would do anything to be able to go back and change that." He considers himself to be "a huge letdown" for himself and his parents.
Except for his overeating, David, 30, seems to have an ideal life. He works at a Washington University in St. Louis as a successful chef and he has a beautiful girl friend, Kayla, who he is in a long-term relationship with. He feels like if he is seen out with his girlfriend, he will be embarrassing her. David wants to get married to her and take the next step in their relationship, but he often undermines his own opportunities to achieve happiness.
Kayla wants him to find out why he has gained the weight. David says that he "eats secret meals behind her back," and he say that he "doesn't see myself reaching the age of 40."
Chris Powell gives David the good news that he will help him in his year-long weight loss journey to lose half of his body weight and also works with David to transform himself from the inside out. When David lifts up a serving top, there is Chris' head poking up from under the table to tell him that he will help David loss the weight he wants to lose. Right there, in front of the dean of the university and his students, he weighs in at 413 pounds.
In order for David to get past his sense of guilt and loss and move on with his life, Chris will help David build up the courage it will take for him to finally talk with his parents about the tragic deaths of his brother and sister.
Chris gives him the goal of losing 114 pounds to get into the 200s for his 90 Day Weigh-in. David wants to fulfill the promise he made to Kayla to lose weight. Then, he says that he will feel better about starting a family with her.
With Chris to assist and guide him on tonight's episode of Extreme Weight Loss an ABC, David will also attempt to live out one of his dreams — to become a MMA (Mixed Martial Arts) fighter.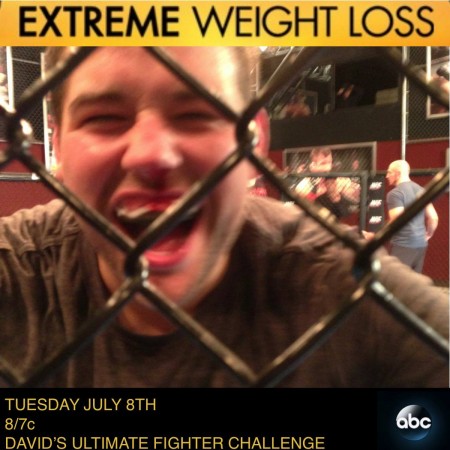 In Las Vegas, the UFC will grant David VIP treatment during one of the year's biggest bouts. Also, David will get introduced to Dana White, the founder of the UFC. As if this was not enough, he will get to meet champion UFC fighters Ronda Rousey, Vitor Belfourt, and Urijah Faber and work out to prepare for his MMA fight against UFC's Michael Bisping.
David starts out, like all of the contestants are doing this season of Extreme Weight Loss, spending the first 90 days in Colorado learning about wellness and nutrition and working out at the renowned University of Colorado's Anschutz Health and Wellness Center (AHWC) in Aurora, Colorado. Chris will be there with him throughout the first 90 days.
At the 90 Day Weigh-in mark, when David weighs in, to make his goal he needs to come in at 299 pounds or less. He weighs in at 295 pounds, exceeding his goal. He has lost 118 pounds in total. Coming back to Washington University, people are lined up to meet Dave and see the great changes he has made in just the first 90 days. He is presented with a brand-new white  chef's jacket to wear. He tells the gathered throng that his first weight goal was to lose 114 pounds but that he had done even better,  losing 118.
David is glad that he is able to show Kayla he has made progress. She can now put her arms all the way around her. He tells the camera "Chris, Heidi — I owe you my life, literally." He does not want to take anything for granted.
However, Kayla mentions that David has gotten a promotion, which means 12-hour days. She is worried that he will not be able to work that many hours and also meet his next weight goal. It is, as a voice-over puts it, "a recipe for disaster."
Chris finds out from Chris that his next challenge will be to fight a three-round MMA fight in Las Vegas. He says that "Everything in life life has been a fight so far." David will be facing veteran UFC fighter, Michael Bisping, in his three-round MMA bout.
At the six-month mark, Chris has brought David to the MMA Training Center in Las Vegas. He has his mother and father with him. Chris hopes that Dave can re-establish communications with his parents.
If the scale says 240 pounds or less, David will have met his six-month goal. He winds up at 260, though, losing 35 pounds. David says that work got the best in him, saying "I let work win.' He tells Chris that he still wants to complete the Milestone Challenge, though, despite not having lost as much weight as he had wanted to lose. That means he must get into the Octagon with Michael Bisping.
David gets to meet Dana White and the UFC fighters mentioned earlier.  He is seated in the front row at the fights, waiting for his chance later on to get in the ring with Michael Bisping. He says that "We were buddy-buddy last night, and now I have to go three rounds with him." David admits "being scared to death," and adds "I almost puked, no joke."
There will be three five-minute rounds, the ring announcer says. Chris says that "His goal is to land 30 power shots in this round. If he does, he will win the round."
After David gets punched in the ribs, he begins to land more and more of his own shots. He won, hitting his challenge. The second round involves grappling.  "Bisping," Chris says, "is one of the best grapplers in the UFC. If he is on his feet at the end of the round, David will have won the second round." He says his goal was "to get up more times than he was knocked down."
The second round, though, according to Chris, was "brutal." David does a great job, but he gets taken down more times than he got up, so that round went to Bisping. In the third round, it is all MMA, all rules. If David can get Bisping down to the ground, he will be declared the winner. He picks Bisping up and slams him to the mat, pinning him a the end of the round!
David says "I feel extremely blessed to be a part of this project."
Chris tells him "We are far from down, my friend. We still have three months." Chris sets the goal for him at 225 pounds. He also wants Dave to meet with his parents to talk to them about the past.
When he gets together with his parents, his mom says "We all miss them. It's a painful subject." His dad says "We all carry our crosses."
His mom tells David "I never blamed you. I never blamed Christopher, either." Christopher was the brother who accidentally shot David's other brother.
"We want you to be happy," Dave's mom tells him. "You've never been blamed for anything. We're so grateful to have you!"
"I'm always there for you guys," his dad adds. "You know that."
Still, David says to the camera that "I will always have a little doubt in my mind, that if I had done something different, it would have all turned out different."
Back from break on Extreme Weight Loss on ABC, David says "In Phase Three, I'm gonna kill it." When Chris meets him at the 9 month Weigh-in, Chris can hardly recognize him. After 7 years, David tells Chris that the time is right and that he will propose to Kayla at the finale. He has the ring already picked out.
At the 9 Month Weigh-in, if the scale says 225 or less, he will have hit his Phase III goal. Instead, he is at 234 pounds. David has not quite made his goal, but he says that he has done better at balancing his time. He has lost over 43 percent of his overall body weight, prompting Chris to take him to see Dr. Gordon about the skin removal surgery. The doctor looks him over, saying he is down to 17.7 total body fat. The doctor adds that he would be a great candidate for the skin removal surgery.
Chris and Kayla are with David right before he goes into surgery. Kayla stayed with David, even when he was at his heaviest. "I now feel we have a future worth living," he tells them both.
Chris says "He has changed every aspect of his life that has caused him pain."
Then, we see Chris in an auditorium meeting with a huge audience gathered there to see David. Chris tells them all about David's history, and how he has carried a tremendous burden of guilt for years believing himself responsible for the deaths of his brother and sister. "The greatest lesson David had to learn was 'forgiveness,'" Chris says. "He then was able to change himself from the inside out."
After Extreme Weight Loss came back from another commercial break, the people in the auditorium and viewers across America got to see how much weight David lost in total during his year-long weight loss journey. The crowd applauded as David walked in and gave Chris a hug.
"There is one person here who has been by your side this whole year," Chris said, bringing Kayla up onto the stage. She and David kiss, and Chris calls her "the girlfriend of the year."
At the start of the year's weight loss journey, David weighed in at 413 pounds. "To start, I have to empty out my pockets," Dave says, and pulls out the engagement ring and asks Kayla if she will marry him. She tells him "Yes." It is definitely one of the most touching moments of this episode.
"I would like to hit the 200 pound mark," David tells Chris before he steps onto the scale. But, before the final amount that David has lost is revealed, Extreme Weight Loss goes to yet another bunch of commercials.
David came extremely close to hitting 200 pounds. His final weight is 201. Kayla tells him "I am so proud of you!" He lost over half his body weight during the year.
Chris then asks him if David knows of someone he would like to give the Week Long Boot Camp Scholarship to, and he tells Chris that he knows of somebody he would like to give it to — his mom.
Extreme Weight Loss on ABC focused on David in this episode, one of the most touching ones to date. Shows like this episode let America see into the lives of the contestants chosen for their year-long weight loss journeys and we get to know more about the real lives of the people we watch in our homes across the country.  Perhaps some people might identify with David or the other people who have been featured on Extreme Weight Loss on ABC and gain inspiration from him or others to transform their lives for the better. Please leave any comments about this episode below!
Written By Douglas Cobb