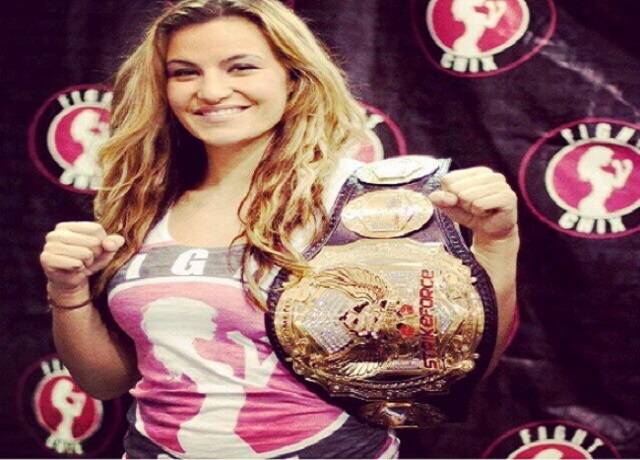 Opportunity has never been better for the established women fighters in MMA, and apparel industries are starting to wreak the benefits after patiently waiting for quite some time. Critics of mixed martial arts said it was not ideal, the president of the UFC, Dana White, back in 2011 proclaimed a woman would never step foot inside an Ultimate Fighting Championship octagon. Well look at where they are now. After observing this year's Fan Expo during International Fight Week, it seems as if the women garnered most of the attention from the UFC fans in Las Vegas, and the many that gathered from across the world. The Ronda Rouseys and the Miesha Tates of the world have gained notoriety in epic proportions compared to some of the better known fighters in the industry. Granted, Canadian superstar, Georges "Rush" St. Pierre may have taken the cake as far as having the most seemingly endless line of the weekend. No matter the case, when able to catch up with some of the heads of some of the most widely known apparel companies in fighting, none of the above turned down the opportunity to speak highly about their gross sales in women's apparel.
The Guardian Liberty Voice was able to touch basis with the likes of Venum, and women's clothing pioneer Fight Chix. Fight Chix exclusively focused on women's MMA gear since 2006, and became one of the more commonly known industries to sponsor women fighters. Currently they are sponsoring the likes of Miesha Tate, Roxanne Modaferri, Kyra Batara, Kelly Kobald, including a male fighter as well, Jeff Curran. After catching up with the C.E.O. of Fight Chix, it was quite simple to tell how delighted they are with their position at this present moment. Since the first women's fight in the UFC, Fight Chix has seen their profit more
than doubled to this day. December 1, 2013, better known as Cyber Monday, was their biggest sales day to date since they first started the company.
There is always one point a view to look at it, but what about the fighters perspective? There were some obvious growing pains in women's MMA, which for every fighter, finding a quality sponsor can become quite the hassle. Roxanne Modafferi provided the slightest insight needed to understand how grateful a fighter truly is for sponsorship, while making a shout out to one of her own. "Sponsors have been hard to find, in general, for females. Fight Chix I think is one of the first companies to gear their brand towards female fighters, and always tries to support them whether it's grappling or MMA. There are a lot of great companies out there now, but Fight Chix has always been awesome to me." Roxanne is currently scheduled to fight in Invicta FC against Tara LaRosa, hoping to end her professional skid. The Invicta FC card will be shown live on UFC Fight Pass, as UFC and Invicta FC had come to terms not too long ago.
Gender has become more irrelevant by the minute, while sponsorship may have become more fruitful than it ever has been. Many have seen what the slightest logo has done for certain players in sponsor game, or must the section refer back to the "Dude Wipes" blowout that occurred on social media during Tyrone Woodley's fight against Rory MacDonald. What also seems to be the flavor of the past week are a Fight Chix specialty, the patented "Ronda Knows" shirts that have been seen landscaping the Las Vegas scenery has become quite the hit for Ronda fans. These apparel industries know exactly what they are getting into when courting a fighter, whether or not the relationship is beneficial for both parties is gamble in its own. Dana White played the cards dealt to him in 2012 and scored handsomely. Now he has everyone rolling the dice, trying to get a slice of that humble pie.
Commentary by Justin Huffman
Follow Justin's coverage in the MMA Spotlight section
Sources:
Personal Interviews at UFC Fan Expo, Las Vegas, NV 7/6/14
Roxanne Modafferi (Invicta FC women's fighter)
Fight Chix (C.E.O. Elisabeth Nuesser)
Venum
Guardian Liberty Voice