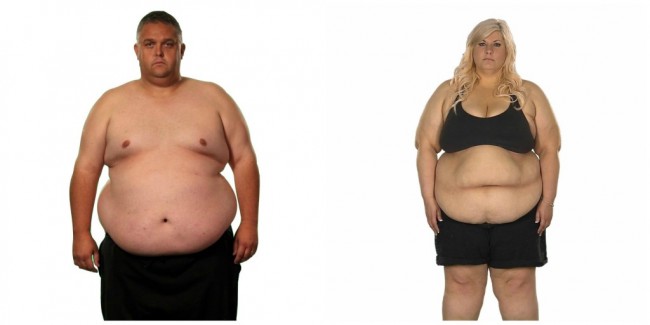 On Extreme Weight Loss on ABC tonight, Chris and Heidi Powell the transformational coaches and trainers who host the show, will have their hands full when they take on two competitors, Kenny and Christy. Kenny, who is a former Marine, weighs in at the start of his year-long journey to lose weight and transform himself inside and out at 410 pounds. Christy weighs in at 380 pounds. Christy is a caretaker for her mother, who is sick. Both must lose at least half of their initial body weight to qualify for the skin reduction surgery that they want by the end of the year.
However, one of them will not make it to the end of this episode of Extreme Weight Loss. For the first time ever, one of these two will be kicked off the show for bad behavior. Just one will make it all the way to the final weigh-in.
Kenny is 35 and is the father of three, living in Oklahoma City, Oklahoma. They live close to his hometown of Moore, Oklahoma, where a F4 tornado cut a deadly swath of destruction. He knew some people who did not make it through alive. His children's school was destroyed in the devastation that resulted. After Kenny quit the Marines, he became very depressed and began to overeat.
In an odd way, the tornadoes that swept through Moore might have saved Kenny's life. He began to realize how short life can be and how everything that someone has can be gone in a very short time. He wanted to turn his life around, so he wrote a letter to Chris Powell, hoping that he would get chosen to be on Extreme Weight Loss.
Christy, 36, has been overweight for as long as she can remember. She has been the subject of bullying and felt that her family did not off her the encouragement and support that she needed to lose weight. In the first hour of Extreme Weight Loss, we learn that the bullying got to Christy so much when she was in Elementary school that she tried to commit suicide by riding her bike into traffic. She was hit by an oncoming truck.
Now, she is the caretaker of her mom, who is ill. Christy has no other outside job and no boyfriend. She does not leave her house very often, only to do things like pick up fast food or go drinking beer with her friends. Wanting to take back control over her life, she decided to write Chris and his wife, Heidi, asking them to help her lose weight.
Both Kenny and Christy spend the first 90 days in Aurora, Colorado, at the renowned University of Colorado's Anschutz Health and Wellness Center (AHWC), with Chris and Heidi Powell. There, they will learn better fitness and nutrition and will work out like they have never done before in order to meet their weight loss goals.
In the first hour, Chris has run-ins with both Christy and Kenny, whose explosive temper made him get right up in Chris's face, though Chris did not back down one little bit. Christy, on the other hand, is her own worst enemy, seemingly bent on sabotaging her potential to lose weight. Sadly, one of them gets kicked out of the program and only one of the two makes it throughout the entire year to the final weigh-in.
Among the many strenuous exercises that both Kenny and Christy take part in, like crunches and lifting weights, Kenny also says he wants to take dance lessons, so that he can eventually be able to dance with his wife. Many times during the first 90 days, Kenny misses his family and they are always on his mind. He wants to become a better husband and a better father, though, so he hopes that his time in Colorado will pay off.
"Kenny gives his all especially with his dance lessons," Chris says. "I want him to be able to fulfill his dream of being able to dance with his wife."
"Everyday being without my family is a hard day," Kenny says.
It is painful to Kenny to hear his family on the phone and not to be there with them. He wants the "quality of his life" to improve though.
It is Christy's 90-Day Weigh-In. She feels that the 90 days went by really fast, though Chris says he has "high hopes." Her goal was to lose 85 pounds. If the scale weighs 298 pounds or less, she will have hit her initial 90-Day Weight Loss Goal.
"Christie," Chris says, looking kind of dejected at first. But, he is just kidding around, adding, "you just hit 298 pounds! You did it!" Chris says "You lost 86 pounds! it doesn't get any closer than that!"
After being happy for her, he says somberly "Phase II, that's when real life comes pouring back in. The number I have in mind for you is 68 pounds." Chris would like Christy to lose an additional 68 pounds by the time of her next weigh-in.
Christie is not sure she can do it. As Chris says, "All that happiness faded from her face. For a moment, I saw the old Christy. She needs to battle her old feelings. If she doesn't get them out of her way, she might not make it."
Then, it is Kenny's 90-Day Weigh In. He wanted to get out of the 300s. "If you step on the scale and it says 299 or lower, you will have hit your goal." The scale says 309 pounds. Still, Kenny did a great job to get to that weight in 90 days.
"I have two options, Chris. I can quit right now and be embarrassed or ashamed, or I can be proud of what I achieved and continue on," Kenny tells Chris.
"You can be proud of your struggles. Lesson learned," Chris says. "All the work you put in the last 90 days — It's time to be proud of that."
Headed home, Kenny says Chris told him that his Phase II Goal is to lose 45 pounds. He hopes that his kids will be able to see a difference and be able to tell that he has lost weight.
"You cutted the side of your hair," his daughter says when Kenny asks her is she notices anything different about him.
"What about my tummy? Is my tummy gone?" Kenny asks. His daughter says "Yes."
Then, Kenny speaks in front of a large outdoors audience and says he has lost 1001 pounds and cannot wait to get started again. But, he finds it difficult to get in both his daily job and also to work out enough. He says "I'm at a crossroads now."
Chris says he has heard from Christy "Exactly zero times. If she has not lost any weight, that's not good."
When Chris walks into her house, let in by Christy's mother, she is in her exercise room. "At the end of Phase I you were at 298 pounds," he tells her. He is worried about how she's doing and he wanted to check to see if she is still losing the weight that she is supposed to be losing. She weighs in at 301 pounds. One month into Phase II and she has added three pounds instead of having taken any off.
"I feel ambushed right now. I don't like this," Christy says. "I'm not an overeater."
"If you're actually burning this many calories and you are consuming more calories or your body has adjusted too much," Chris says, frustrated at her and thinking she is being less than honest with him. He cannot figure it out. He asks her to come back with him to Colorado.
She says "That would be admitting I can't do it here on my own." Chris pretty much insists that she do it, though. Then, Extreme Weight Loss goes to a commercial break.
Phase II continued with the next hour. Chris tells the camera "I've never kicked out anyone from this program. It's with a heavy heart that I'm doing this now." That is a preview of the next hour….
Heidi say to the camera "It's important for Christy to admit that she has cheated."
Christy tells Heidi that she has not cheated, she has not gone out and eaten fast food or drank any beer with her friends.
"I think that you're scared of going to Colorado, that you can't make it," Heidi says.
"I don't understand what I'm doing wrong," Christy says
"I've given her the challenge of running up and down the hills here. She's out of sight right now," Chris tells the camera.
"Stop fighting yourself. You're costing yourself this entire opportunity. If we didn't believe in you right now, where would you be?" Chris asks.
Christie says "Home."
Chris says to the camera that he just got a call that Christy was hitchhiking back and was given a ride in a car rather than walking the mile and a half back to the Wellness Center.
"I have never kicked anybody out of this program before," Chris says. "But there is a first time for anything."
Chris asks her "How was the walk home?"
She says "It was awful."
"What was the most awful part?" Chris asks. "Getting into the car or getting back out of it?" Christy was busted out.
"I am livid with Christy right now," Chris says to the camera. "She was flown out here and gave up and hitchhiked rather than walking home."
"From what I saw this morning, your work out was piss-poor. We've all invested so much in you. Life isn't going to change; you have to change if your life is going to get better."
Heidi said "Everyone wants this deal. Everyone but you. You are going back home."
Chris says "When you do get it, it will be so powerful and you will change."
"It is with a heavy heart that we're sending Christy home. We want her to change but she has to also want it," Chris says to the camera.
Chris has Kenny do his weigh-in aboard the U.S.S. Missouri in Pearl Harbor. "90 days ago at the end of Phase I you weighed 309 pounds and I gave you the goal of losing 45 pounds. Take off your shirt and get on the scales."
"Yeah! You did it!" Chris shouts in exuberance. He weighed in at 265 pounds. He lost the 45 pounds on the dot.
His challenge will be to work out with Marines for 12 brutal hours. "This time, you're not going to quit," Chris tells him. It is a sort of Beat-Down Challenge. They work out constantly during the 12 hours. Part of it is wading through water with a 75-pound bag on their backs that gets even heavier. "You just feel the weight. Everybody is cramping up so badly. I had to carry a man who could not make it.
"You are 14.7 miles in. We're not done yet," the drill leader says. "Kenny, you're going to take us in," the drill leader says. Kenny leads them all back the rest of the way. "All I can do is live for today and make good decisions now," Kenny says.
Chris tells him "Your Phase III Goal is to lose 4539 pounds and get to 225 pounds."
"Holy smokes!" Chris says when he sees him next. He says at the Nine Month Weigh-In "I can officially say that he looks skinny. I gave you the goal to weigh 225 pound. Get on the scale." He weighed in at 224 "You just lost 40 pounds. You're a prime candidate for this surgery. You have as good of a chance as any. Let's do it," Chris says.
The doctor offers him two choices. He can have skin surgery right now, or he can lose 25 more pounds. He decides to lose 50 percent, another 25 pounds, before he has the surgery.
At the end of the year, Chris speaks to a large auditorium full of people and tells them about Kenny having been an incredible athlete. He quit the Marines, but always regretted it. He began to overeat and he weighed 410 pounds at the initial weigh-in.
"Who wants to see the new Kenny? Put your hands together to welcome the new Kenny!" Chris says. Then, Extreme Weight Loss went to yet another commercial break.
Kenny looks so thin when he enters the building. "Quit is not in your vocabulary any more," Chris says. "There was one other individual who began the transformation with Kenny, but she is not here. Everybody has the option to quit."
"I was looking at a mountain. There were days I fell, but I kept going up that mountain."
"Speaking of steps, you're about to take one more step right up onto these scales. The doctor gave you two choices," Chris says, relating what they were to the audience. "Take that last step onto the scale." he says. We are shown black-and-white scenes of the past year and then…Extreme Weight Loss went to another break.
"My goal for you was 50 percent of your original body weight. That's 205 pounds."
"Let's do it!" Kenny says. He weighs in at 202 pounds!
"You did it!" Chris tells him. Everybody in the auditorium applauds.
"He looks so awesome!" his wife says. "He looks hot!" Chris tells him that he will probably lose about another 11 pounds in skin with the skin reduction surgery.
"You had this incredible opportunity and now, I want to give you a chance to pay it forward," Chris tells him, handing him a week-long scholarship to the Colorado Boot Camp. He gives it to his brother, Steve. "I'm going to look back on this and think of it as a blessing."
Then, Kenny asks for the scale to be cleared away. He asks his wife for a dance. "He — he stole the show," his wife says.
"You're twice the man you used to be, even though you're half the size," Chris tells him. He lost precious time with his family, but he is making the years he has left count and become that much more more valuable.
Extreme Weight Loss tonight was definitely dramatic. It was interesting to have the episode focus on two people instead of the one that it usually focuses on. Also, either one of the two, Christy or Kenny, could have potentially been the one to be kicked out of the program. That was a very dramatic moment. Christy could have done any number of things or said any number of things to prove that she wanted to continue on with the program and lose the weight she needed to lose, but she did not do any of those things. Hopefully, she will eventually lose the weight, one way or the other, for the sake of her emotional and her physical health.
Written By Douglas Cobb