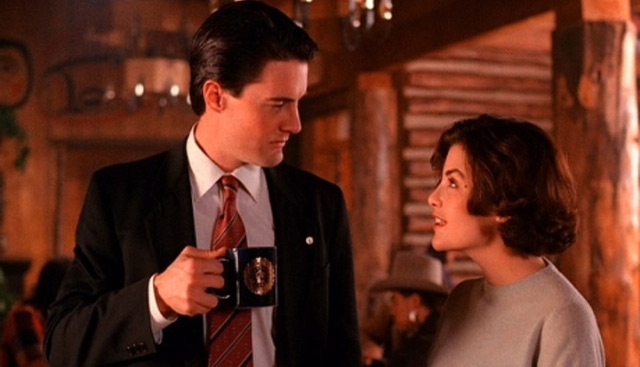 Twin Peaks has been resurrected from the dead for Showtime. The cable network will launch a continuation series of the cult hit drama in 2016, which will premiere 25 years after the original ABC series was cancelled. The original series ran for two seasons from 1990 to 1991 and produced a total of 30 episodes (8 episodes in Season 1, followed by a full 22-episode run for Season 2).
The off-kilter drama, which explored the bizarre events in the fictional, titular small town after the murder of a teenage homecoming queen, captivated viewers and became a critical darling during its initial run. The groundbreaking series was created and executive produced by David Lynch and Mark Frost, both of whom will return to write and produce all nine episodes of the limited continuation series set to air on Showtime in 2016.
The short-lived series was set in a fictional Washington town called Twin Peaks and followed the residents as they lead mysterious lives filled with dangerous secrets. The series started with the murder of Laura Palmer (Sheryl Lee). Her death set off a chain of unexpected events that no one could have predicted, and the mystery led to Twin Peaks acquiring a cult following that was strong enough to resurrect it from the dead 25 years later via Showtime.
The series, which earned much critical acclaim and became a cult phenomenon during its first season, became disjointed and went off the rails midway through its second season. This downward trend was attributed in part to pressure from the network and fans to finally answer the central question posed: "Who killed Laura Palmer?" However, the series also suffered a major setback due to the absence of Lynch, who was working on another ABC series pilot, Mulholland Drive, which the network passed on and was subsequently retooled into an Oscar-nominated feature film. The movie and move made by Lynch not only garnered him an Oscar nod but also placed him in a very exclusive league. Mulholland Drive, an expose on the fractured and fantasy world of Hollywood, is now considered a masterpiece.
For fans who need to catch up or have never watched the original series, Twin Peaks is available for streaming on Netflix. Netflix's instant streaming service has the entire series currently available for viewing to its subscribers. For those viewers who are not monthly subscribers, fans can also watch the entire series on Hulu for free (with ads included). Unfortunately, Twin Peaks: Fire Walk With Me, which is the follow-up movie that was produced in 1992 after the series concluded, is not available to stream on Hulu or Netflix. However, it is available through Netflix's DVD service.
Showtime has resurrected Twin Peaks from the dead, as the subscription cable network announced plans for a continuation series that will be set in the present-day and will provide long-awaited answers for the series' fan base. Series creators and executive producers David Lynch and Mark Frost will return to write and produce all nine confirmed episodes of the limited continuation series set to air on Showtime in 2016.
Written and Edited by Leigh Haugh
Sources:
BBC News
International Business Times
Washington Times
Entertainment Weekly
USA TODAY