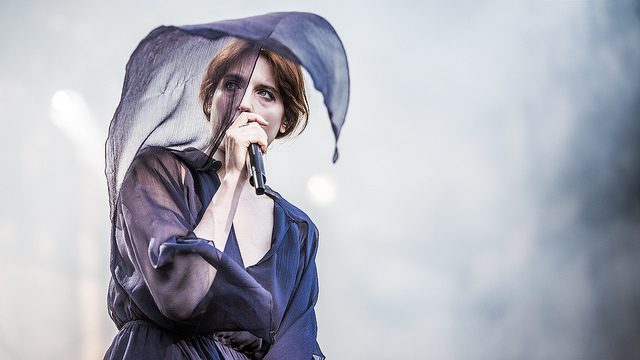 After a self-imposed hiatus lasting several years, Florence Welch is back with Florence and the Machine, with plans to release a new album called How Big, How Blue, How Beautiful. The collection of 11 songs, all written and recorded by Welch with production by Markus Dravs, will drop from Republic on June 2.  A video of the title song was released this week, and shows Welch dancing with herself to ethereal music. Florence and the Machine are now releasing the first single from the album, called What Kind of Man. The accompanying video was directed by Vincent Haycock with choreography by Ryan Heffington.
The song, in which Welch addresses an immature man who is not sure what to do with his life, starts out slowly before building to a heavy beat. The singer describes her devotion to the wayward man who will not commit, asking, "What kind of man loves like this?" The track evolves into what Rolling Stone describes as a "densely textured, soulful…pop song." The track was co-written by Kip Harpoon, with whom Welch worked on her 2011 album, Ceremonials, and her hit track, Shake It Out. Producer Paul Epworth, who also worked with Welch on the 2011 album, collaborates on the final track of the new album, the bluesy Mother.
In a statement, Welch explained that she chose Dravs as producer because of his work on the Björk album, Homogenic. The way in which Dravs balances both organic and electronic instruments played a part as well. In addition to her desire for "big sounds" on the new record, Welch wanted a prominent brass section, which ended up being arranged by Will Gregory of Goldfrapp.
Brass plays a large part in the title track of the album, which boasts a horn section. Welch says the trumpets that sound at the end of How Big How Blue How Beautiful feel like love to her; something that she wants "just to pour out endlessly," saying that "it's the most amazing feeling."
To back up the new record, Florence and the Machine have scheduled more concerts this year. They are set to appear at Bonnaroo, Coachella and Governors Ball. The touring schedule also includes stops in Europe in June, July and August, which is a big change from their easier schedules of the past few years.
After a busy 2012 in which Florence and the Machine toured heavily to promote Ceremonials and released an album for MTV Unplugged, the band decided to lay low for a while. They did some work in 2013, contributing Over the Love to the soundtrack for The Great Gatsby and appearing at a concert for charity. Welch herself appeared on I Come Apart with ASAP Rocky.
In 2014, the band came together to play for Neil Young's Bridge School Benefit. Hints that new music was forthcoming came from Welch in June last year while Florence and the Machine were playing in London for a fundraiser. At the time, Welch said that it felt good to "not hid[e] in a studio 24 hours a day."
Welch describes How Big, How Blue, How Beautiful, which Florence and the Machine recorded last year, as more grounded than Ceremonials. She says the new album focuses more on learning to find a place in the world and how to love instead of trying to run from it. The concept, she says, "is frightening because I'm not hiding behind anything."
By Jennifer Pfalz
Sources:
Rolling Stone
Billboard
Image by Kim Erlandsen – Flickr License