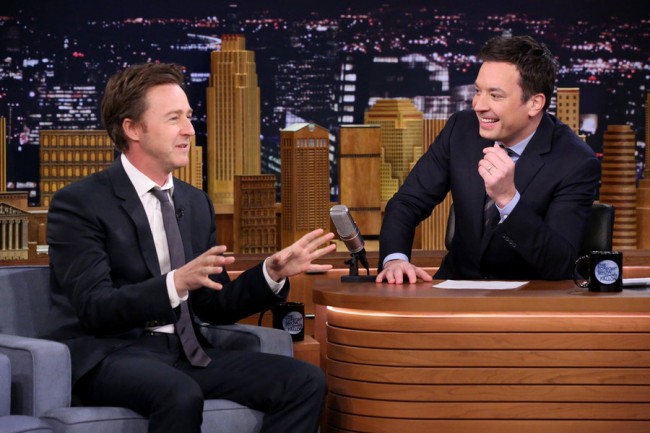 The Tonight Show Starring Jimmy Fallon started off the week right on Monday, February 16, with Fallon's guests, actors Edward Norton from Birdman and Craig Robinson, who stars in Hot Tub Time Machine 2. The musical guests of the Tonight Show were Chris Brown, along with his friend, Tyga. Announcer Steve Higgins was on hand to add to the hilarity, and the house band, The Roots, were incredible, as usual.
The Tonight Show began with host, Jimmy Fallon, doing his monologue,  cracking jokes about topics in today's headlines. Fallon, for example, joked about the "massive snowstorm" that hit New England. "The weathermen are calling it "12 hours of h**l," while single people called it Valentine's Day," he said.
Fallon then joked about "thunder snow,' which is thunder and lightning in the middle of a snowstorm. He showed a clip of a very enthusiastic weatherman who reveled that he was in the middle of the thunder snow storm.
Jimmy Fallon also joked about Joe Biden saying "America is back," and then asking "When do I get to meet Drake?" He also said that officials in Washington D.C. found that the Washington Monument was 10 inches shorter than was originally thought. He said that the Washington Monument said "Could you come back in July and measure again?"
Fallon was played to his desk by The Roots, and talked about last night's Saturday Night Live 40th Anniversary Special. He mentioned rehearsing with Justin Timberlake, and Chris Rock was there, along with Eddie Murphy, Paul McCartney, and Jack Nicholson and Jerry Seinfeld. He continued to drop names, like those of Tom Hanks, Martin Short, Steve Martin and Bill Murray. Then, Jimmy Fallon talked about the After Party. He said there was a stage set up, and Dan Aykroyd and Paul McCartney called him out. They got Taylor Swift to come onstage, as well.
Jimmy Fallon said he was left to MC after everybody else left. He called Miley Cyrus up onto the stage, who sang, then Ariana Grande, who also agreed to sing. Debbie Harry then came onstage and sang a Blondie song, followed by Michael Bolton. Lead singer Fred, from the B-52s, came onstage and sang Love Shack.
Bill Murray then joined them with a tambourine, and Elvis Costello sang Pump It Up. Dave Chapelle told Fallon that Prince was there, so Fallon said he dared Prince to come onstage. He said that there was purple smoke all around and Prince played Let's Go Crazy. Chris Rock also sang back-up, with Fallon. It sounded like a rocking party that Jimmy Fallon will not soon forget.
Jimmy Fallon said after the commercial break that he had given away tickets to a woman in the audience to a Paul McCartney Valentine's Day concert. He had kidded that Paul would shower them with rose petals. McCartney heard that, and he obliged. Fallon showed a clip of rose petals coming down from the ceiling as Paul sang.
Fallon mentioned the guests for the week, and tonight's guests, like Ed Norton, Craig Robinson, Chris Brown and Tyga. As he said Norton's name, the actor came onstage momentarily, but left and will be back on soon.
Then, Fallon played music that nobody should ever have to listen to, like one by The Orchids called The Boys Got Pregnant. It sounded like a bunch of screeching. After that, he showed a funk band, with singer Jayson Hoover. The song Second Lady played, with no actual words, just vocal sounds by the "singer." Fab Company was the final band he mentioned. He played You'll Put Your Shoes On, a pretty messed-up sounding song. At the end of the bit, all of the songs were combined, and sounded actually relatively good that way.
After a break, Jimmy Fallon introduced the first guest on the Tonight Show, Edward Norton, who was one of the stars in the Oscar-nominated movie, Birdman. Edward Norton is up for an Academy Award for Best Supporting Actor.
Edward Norton fact-checked Jimmy Fallon's chronology of events last night. "At no point in the evening did Jimmy Fallon say 'Let's wrap it up.'" he related. "The rush to the stage when Prince came on, did happen. When Jimmy and Chris Rock started being Wendy and Lisa to Prince, I thought I had to get out of here. I didn't want to see you turn into Sheila E. for Prince."
"Gosh, you were fantastic! You did Stefan, it was actually you as Stefan…" Jimmy Fallon said.
"Nobody's Stefan but Bill Hader," Norton replied. "I don't know if you noticed — I was tiny. They put me on a stool next to Hader. It was like the Hobbit-cam."
"You were phenomenal in Birdman," Jimmy Fallon told him. "It was one long tracking shot — you can't screw up your lines," Fallon said.
Norton said "Everybody relied on almost everybody else the whole entire shot. It was tense and exuberant at the same time. It made for a bonding experience." Norton set up what the clip was about that Fallon played, and then he showed it. It looked pretty cool, but it was very intense, as Norton was onstage during a play and he had drank too much gin.
Jimmy Fallon then said, after another break, that Edward Norton has a documentary coming out on March 6. Then, he introduced actor Craig Robinson, who talked about the Mardi Gras Parade. Robinson said "That's usually the goal in my movies — just don't die." Fallon showed a photo of Robinson on a float, and the Hot Tub Time Machine 2 actor said "I was not prepared, emotionally, to be on a float." He talked about how everybody seems to love you, but that they really just want to get beads.
Fallon said "You end up being a musical genius because you go back in time." Robinson's character then comes up with songs like Maybe Baby and Stay, but he has forgotten some of the words and has made up his own lyrics. Fallon played a clip from the movie. In the clip, Lisa Loeb said, referring to his version of Stay, "That song sounds so personal. Almost violating."
Robinson's character said "Sorry," as it would have been her song if he had not stolen it and come out with it first. Then, the Tonight Show went to another commercial break.
Jimmy Fallon then introduced musical guests Chris Brown and Tyga with the song Ayo, off of their upcoming album, which will be out February 23. In the song, Brown called himself "the black Richie Rich." He was dressed in a coat and baseball cap, and Tyga also had a coat on, as they both sang. Chris Brown, Tyga, and Trey Songz are currently on the Between the Sheets Tour. They were incredible, and their performance was a great way to close the show.
The Tonight Show Starring Jimmy Fallon this Monday was another terrific episode, with Edward Norton from Birdman and Craig Robinson, who stars in Hot Tub Time Machine 2, as his guests. Chris Brown and Tyga concluded the show, with a performance of Ayo. Be sure to tune in tomorrow night to see another episode of The Tonight Show Starring Jimmy Fallon!
Written By Douglas Cobb
Sources:
NBC Universal Media Village
Chris Brown Official Site