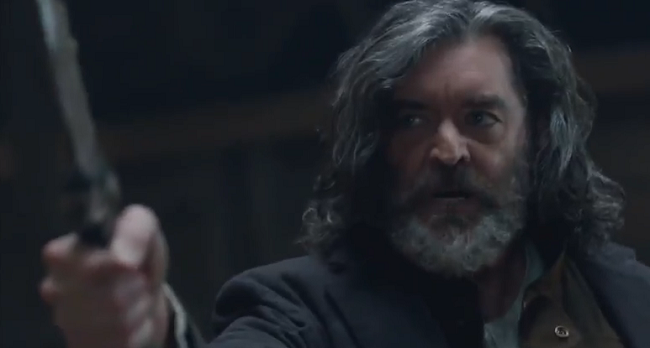 Cain is making a return to Supernatural next week. The Father of Murder is back but with longer hair, and ready for a standoff against Dean Winchester. Many fans will be excited, knowing that Timothy Omundson was returning for an episode. However, they may not have realized just the context of the episode.
Based on the trailer, there is going to be a showdown between Dean and Cain. During season nine of Supernatural, when Dean received the Mark, Cain said that he would return. He made Dean promise that when he asked, the Winchester needed to kill him. It all seemed like it would be so simple, but that does not seem that way now. It looks like Cain is not ready to die just yet, and does not want to give Dean the chance.
Last week, Dean made it clear that he was ready to start learning how to deal with the Mark of Cain. While Sam has been saying that he can, it seems the younger brother really does want to get rid of it. He suggests turning to Cain, but if he has lived with it for so long, surely he had no idea how to get rid of it. Sam wants to ask him for help anyway.
That was likely expected by most fans. It made sense to turn to the only person who had dealt with the Mark of Cain. However, a showdown between the two may not have been expected. It looks like Cain wants his First Blade back.
While Supernatural sees the return of Cain, the premise for The Executioner's Son promises the return of Crowley and Rowena. This storyline has taken a backseat over the last few episodes, but many fans want to see how it all plays out. Is Crowley really falling under his mom's spell, or does he know that she is playing him for power.
It seems that she has found the perfect way to topple him. He bails on some plans so he can help the Winchesters, making it clear that his allegiance may not be with evil after all. However, fans will know from last week's episode, About a Boy, that the Grand Coven is still after her. Is Crowley working with the Grand Coven in secret to get rid of his mom? Surely secret meetings with them would have been shown by now, but considering Crowley was only mentioned in passing (without a name) for the first five seasons anything is possible.
Episode 14 of season 10 of Supernatural airs next Tuesday. It is the chance to see Cain return, and there is the possibility that Dean will finally get rid of the Mark of Cain. It seems unlikely considering there are still nine episodes of the season to go, if the last two seasons are anything to go by. It has been such a major storyline, that it seems like the writers would end up cutting it short. However, it looks like it will be an episode with a punch next week, with Supernatural seeing the return of Cain.
Opinion by Alexandria Ingham
Sources: