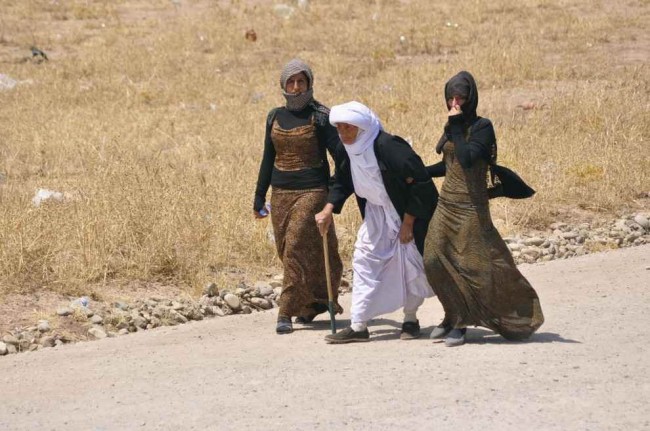 The Yazidi women who were released by their ISIS captors have shared harrowing tales of their gruesome public gang rape committed by ISIS terrorists. Out of the 216 who were released earlier this week in Himera, just south-west of Kirkuk, Iraq, many women have spoken out about the public humiliation, torture, slavery, and mental as well as physical abuse that they had endured while in captivity. The Yazidi women as well as young under-age girls who are below 15-years-old were tortured, stripped, and gang raped repeatedly in open public view by three or four men who were more than twice their age. These men include terrorists from ISIS as well as many sympathizers and followers of the terror group.
As horrendous as it may sound, it is a fact that women from the Yazidi and other minority communities have had to face. One reason for this could be attributed to the lack of outrage from the international community and the apparently futile response or military action taken by NATO. The countries in the Arabian Peninsula and the middle-east had also formed a group to fight these ISIS terrorists. However, the military action has failed so far to control or neutralize the terror outfit's surge or even stop their major source of funding which is selling oil in black market.
They have captured vast swathes of land in Iraq and neighboring Syria and declared an Islamic caliphate in the region. They collect taxes and claim to govern the region as per the Islamic Shari'a law. The terrorists have also been forcing all other minorities in the region to convert to Islam. In case the communities refuse to convert they charge more taxes from them as per Shari'a law to practice a different faith.
It has also been reported by many human rights agencies that a massacre of genocidal proportions and an ethnic cleansing of the minorities is taking place in the region. Thousands of men have been shot and killed in cold blood and the women and children of the families then taken hostage. Boys and girls as young as 12-years-old are being distributed among the terrorists as spoils of war. Many of them are repeatedly being sold as slaves in the black market for flesh trade after being mercilessly tortured by their captors.
Hundreds of children and women were taken hostage from Sinjar, a town in northern Iraq, by ISIS terrorists more than eight months ago. Many of them were sold to these terrorists as sex slaves or handed over as 'prizes'. Many Yazidi women have shared stories of their gruesome public gang rape, flogging, and being forced to convert to Islam by ISIS terrorists. A member of a support group for Yazidi victims has said that in the Iraqi cities of Mosul and Tal Afar, children were separated from their mothers and then distributed among households as slaves. They were then subject to the most heinous and cruel kind of physical violence and torture. It has been reported that ISIS terrorists have also been forcing the hostages to give their blood to be used for transfusions.
An 87-page report by Amnesty International had exposed the atrocities of rape and torture endured by Yazidi sex slaves in November 2014. The report had clearly mentioned that children-both boys and girls were being sold as sex slaves or given to the ISIS terrorists as 'gifts'. As per the belief of ISIS followers and sympathizers, the Yazidis should be considered heretical. ISIS tried to justify the act of using them as sex slaves or selling them by using the doctrinal pronouncements of early Islam by publishing an article in its propaganda magazine. However, many ISIS supporters had been denying the act of human trafficking of Yazidi women and children held hostage by ISIS and the reports of their gruesome public gang rape.
By Ankur Sinha
Sources:
The Times Of India
The Washington Post
BBC
Photos by:
Domenico-Flickr License
European Commission DG ECHO-Flickr License