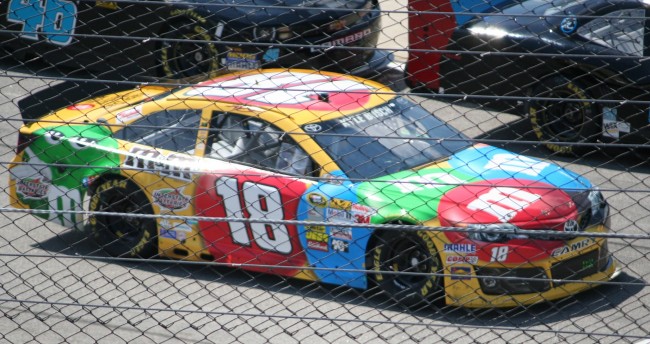 The Kansas Speedway is hosting NASCAR's annual SpongeBob SquarePants 400 this weekend, as well as the debut of 18-year-old rookie phenom Erik Jones. The 18-year-old will be in car No. 18 on Saturday night, filling in for David Ragan, who himself was filling in for Kyle Busch. Busch was severely injured at Daytona Speedway in the season opener. He suffered a compound fracture of his right leg, and a left foot fracture. Considering how important legs and feet are to drivers controlling cars at 200 MPH, it is unknown how long it will be before Busch returns.
It is also unknown how long Jones will be in the saddle of Joe Gibbs' NASCAR Racing Toyota. Nothing has been said about the team's driving position past the SpongeBob SquarePants 400 in Kansas. Ragan has made a move to Michael Waltrip Racing, officially replacing Brian Vickers as the driver for the duration of the 2015 season. This leaves young Erik to take the reigns, and most likely keep them until Busch can return, but again, nothing has been confirmed.
Is the very young man ready for this challenge? "I feel like there's a point where you have to make the jump," he tells the Detroit Free Press. "Whether it's now or a year down the road or two years down the road, I'd have to do it. I feel like this is probably the best situation I could be in to make that jump, in a part-time situation like it is. It's a great opportunity, and it's a top-flight car, so obviously, there are expectations to run well. As long as I can keep my mentality that I'm just here to learn and make laps, then I feel like it's not going to hurt my development in any sort of way."
This will not be his first race this year in an NASCAR Sprint car. He ran the majority of the race in Bristol, Tennessee during the Food City 500. Driver Denny Hamlin suffered a strained neck after starting the race. There was a rain delay after 22 laps that lasted almost four hours, and the neck condition worsened, so Jones was pushed into action. Erik Jones finished 26th, but the 18-year old gained valuable race experience he can take into his NASCAR SpongeBob SquarePants 400 debut this weekend, his first official start.
When asked if that start is going to help him this weekend, he replies "Yeah, it really does. Anytime you get into a new car in a new series; it's kind of nerve-wracking starting your first race. It's nerve-wracking starting any race, but especially your first one. That did take away some of the, I guess, unsureness of what's really different about the Cup series, and I definitely think that knocked some of that stuff out of the way, which is nice. I don't know if it will take away all the pre-race jitters, by any means."
NASCAR is hoping to avoid weather issues expected to plaque the Kansas area all weekend long. Saturday night, in particular, is looking at a major storm forecast, including potentially unsafe hail conditions.
Erik Jones maybe only an 18-year-old rookie, but he is getting to live his NASCAR dream at the SpongeBob SquarePants 400. He gets to race against Jeff Gordon, who is retiring at the end of this season. Jones says he had posters and cars of Gordon's growing up and never thought he would get the opportunity to compete with him before he left the sport. Hopefully, Mother Nature does not take all of these goals away from a young man growing up so fast in a fast sport.
By Evander Smart
Sources:
Photo by Mike Kalasnik – Creativecommons Flickr License