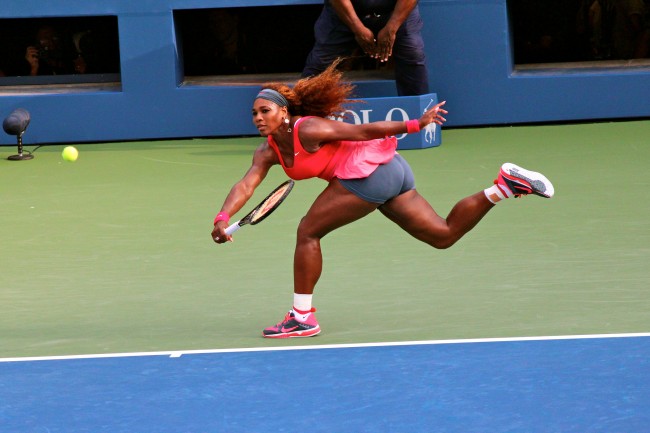 Serena Williams proved she has what it takes to be a true champion with her 20th Grand Slam in Women's Singles at the French Open in Paris. After a rocky start, she fought her way through to victory–from sick-bed to winner. She comes in just behind Margaret Court and Steffi Graf for the most Women's Singles championships.
It was a familiar ending in Paris, with Williams raising her hands up in the air on her red carpet in her hometown, winning another Grand Slam trophy. During the last hour of the match, it was evident that she would be triumphant, as she moved in for the kill against Lucie Safarova. She was up 6-3 and 4-1, and ahead in points by 25 when serving, but then déjà vu struck in another bit of bad luck for the champion. A nice forehand from Safarova was enough to throw Williams off her game a bit and made her commit an unnatural error. She made two double faults and Safarova had her first break with serve.
The 28-year-old from Czechoslovakia was not going to make it easy on the champion, and she was going to make her first appearance at a Grand Slam count. She served Williams an arsenal of winners and was looking to disrupt her opponent's concentration when she served. Safarova forced a third set, and ahead two to nothing, she left the women singles Grand Slam winner stunned.
Williams has the heart and will of a true champion, and she won her 20th Grand Slam trophy at the French Open in Paris. After the match, she told reporters that the match had gotten increasingly hard. Her interview was aired in English and French. This year was a bit difficult for the 33-year-old women's singles champion. Yesterday certainly had its ups and downs for her. She fought hard and won the trophy with five three-set victories. Williams thanked her fans and family in French and complimented Safarova on her wonderful performance, thanking her for being a great competitor.
What is more amazing than being two titles away from Graf, who is the leader in this French Open era, is that she did it while sick with the flu. Williams considered pulling out, but instead she played and fought hard against a remarkable opponent that even by her own standards was pretty amazing. After winning this year's French Open with the flu, few have doubts that she will be able to add Wimbledon and the U.S. Open to her trophy wall, which has been something she has dreamed of for a long time. At 33-years-old, most tennis players are ready to retire and she is still going ahead with full steam. the only female tennis player to win a Grand Slam that was older than her was Martina Navratilova, who had the honor of awarding the trophy to Williams.
Safarova told reporters that she could not find anything in her arsenal that would stop her opponent, and in the last six games, she chased down all the returns she threw at her. Safarova tried risky shots, but it proved useless against the champion. Safarova said she could not compete with that.
Williams slammed her 20th Grand Slam in women's singles in the French Open, which was hosted by Paris, bringing her to a 20-4 record. Although she may find herself down, she is never out because she always finds a way to win.
By Katherine Miller-Chichester
Sources:
CNN: French Open 2015: Serena Williams Wins Landmark 20th Major
The New York Times: Serena Williams Wins French Open for Her 20th Grand Slam Title
ESPN: Serena Williams French Open for 20th Grand Slam Title
Photo courtesy of Boss Tweed's Flickr Page – Creative Commons License
Photo 2 courtesy of Boss Tweed's Flickr Page – Creative Commons License