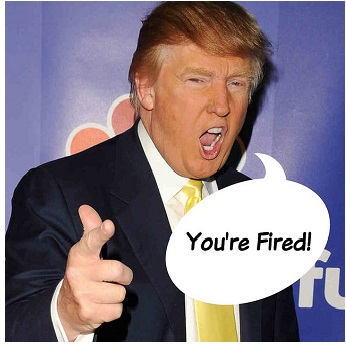 Growing up impoverished in Massachusetts, Corey Lewandowski who was the grandson of a union printer found it hard to believe he would one day live in the limelight of popular politics with Donald Trump. This is exactly where he ended up as Trump's recent campaign manager. During press conferences and media appearances from January until just a few days ago, Lewandowski would be seen flanked aside the boisterous GOP nominee adding input, guiding questions and strategizing the campaign's next move.
In the height of his dream, it is doubtful that Lewandowski ever imagined he would hear the two words that put Trump on the map as a reality show tycoon, "You're Fired!" But again, to his surprise late Monday morning that is exactly what happened. Sources close to Trump's camp are saying this may be a last-ditch effort by the nominee to right an already rocky ship before the GOP convention takes place just a few short weeks away. Others say there were personality clashes that led to the personnel shift. Whatever the reason, Lewandowski abruptly found himself without a job this week. Now, the former campaign manager for Trump, he is among millions of Americans who face this harsh reality daily.
While the Bureau of Labor Statistics boasts a decline in the unemployment rate in America, which is down 0.3 percent to 4.7 in May, what is missing is the warm and fuzzy feeling for Americans signifying the job market is heading in the right direction. Anxiety is at an all-time high and the stats on prescription drug addiction is proof positive that there are many who are not feeling optimistic about a turnaround. It is apparent that from the CEO to the janitor, no one's job is absolutely safe. In fact, many with graduate level degrees are finding themselves thrust into the unemployment market competing for jobs alongside those holding only a high school diploma.
When people find themselves in this situation like Corey, Trump's former campaign manager, did this week, it is easy and almost natural to drop into a panic and wonder what happens next. Instead, after hearing the words, "You're Fired" dry those eyes, steady your heart, and get ready to become proactive as it relates to the future. Reject the victim mentality because it only serves to paralyze these strategic moments.
Here are some very simple tips that anyone can implement immediately to ensure that this becomes an easier transition for the unemployed and their family members.
It is time to jazz up that old resume: You have done some really cool stuff. Hell, you did way more on your last job than you give yourself credit for! You were there from sun-up to sun-down working your butt off and forgot to keep tabs. Remember all those "Other duties as assigned?" Well, start your list there! Write it down, quantify it and make it relative to the new market you have your eye on. Here is where you should really take a moment and brag on yourself.
Everyone is on Social Media…so get social!: The fastest way to a face to face interview IS NOT the Human Resources Department; it is knowing someone who knows someone else. So stop tweeting and Facebooking about how depressed you are and start reviewing your contacts to see who you really know. Chances are, you are only a few clicks away from someone who can point you in the right direction and even give you a "warm" introduction to your next job. Let them know upfront that you are looking aggressively to get into that company and even offer to treat them to a cup of coffee to share your qualifications.
Do an audit of your online brand: I cannot tell you how your digital footprint can ruin your chances with larger companies. Many people say that it is their life and they can post whatever they want. While that is true, they will also have to live with the consequences of what they post. An account filled with party pictures sends a resounding message to a potential employer. So go through those social media accounts: Instagram, Twitter, Facebook etc., and look at the message each site sends…objectively. Remember, as a professional adult, not every single activity needs to be memorialized in a post!
Be ready, stay ready: If an employer contacted reached out late in the afternoon with an interview opportunity for the following morning… would you be ready? Do you have resumes printed? Is your hair a mess? Are your "interview clothes" still in the cleaners? These are important questions because you only get one chance to make a first impression! You have to stay fresh and ready to roll because they may not give you a lot of notice.
Who knows how Corey Lewandowski's weekend went; it may have included a melody of meetings and political mixers. However, when he went to bed on Sunday he probably was not expecting to start his week on the unemployment list after hearing the infamous words of Trump, "You're fired!" Many others are not as fortunate as Lewandowski who, because of Trump, has outlets like CNN, MSNBC and Fox News to use as a platform to rebound, however, everyone has this little thing called resilience. This elasticity allows people to bounce back every time because they are prepared and ready to execute. Some call it a pivot, as a coach, I call it, "Graduating from the School of Hard Knocks summa cum laude."
Opinion by Early Jackson
(Edited by Cherese Jackson)
Source:
New Direction Coaching Associates: Change and Transition
Photo Credits:
Top Image Courtesy of Early Jackson
Inline Image Courtesy of Chris & Karen Highland – Flickr License
Featured Image Courtesy of khucgiagia – Flickr License