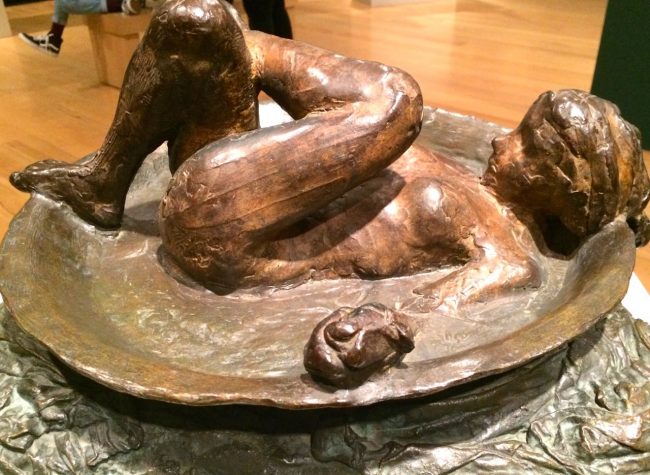 While largely known for his pastel ballet dancer pieces, Edgar Degas's artistic practice included sculpting as well as painting and drawing. Timed with the 100th anniversary of Degas's death, a new exhibit called "Taking Shape: Degas as Sculptor" at the Norton Simon Museum looks at his sculptures.
The Norton Simon Museum, located in Pasadena, Calif., normally has works by Degas on display along with works of his peers. However, this exhibit shows the depths of their collection. "Taking Shape" features the museum's entire collection of 72 bronze modèles. They are a unique set of sculptures cast directly from Degas' delicate wax and plaster statuettes by a Parisian foundry between 1919 and 1921. The modèles served as a template for a serial edition of Degas's bronzes that are in the National Gallery of Art and other museum collections. The late industrialist Norton Simon purchased the master bronzes in 1977. They were casts of the artist's original wax and clay statuettes.
Hidden Treasures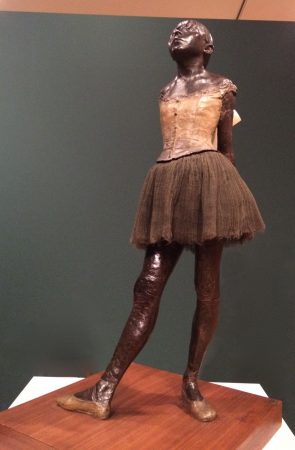 Degas merely exhibited one sculpture during his lifetime, his somewhat controversial "Little Dancer, Aged Fourteen," which is in the Norton Simon show. The figurine startled visitors to the 1881 Impressionist exhibition in Paris with its unidealized appearance and Degas' radical use of real materials, such as silk slippers and tutu, attached to the statue. The reaction may explain why the figure was exhibited only at that exhibition in the artist's lifetime and none of his other sculpting efforts.
After Degas's death, the extent of his sculptural production was revealed. In his studio at that time, there were 150 completed and incomplete model in wax and clay that had only been seen till then by friends and other visitors. The 74 best-preserved (or most complete) examples were cast in bronze in the next few years and those more permanent versions are what is seen today in museums. They consist of small, informal works depicting horses, bathers and dancers in various poses.
One of his more experimental pieces, "The Tub" is part of the exhibition. For this work, the artist used large round corks and wax, along with soft lead, to form the rim of the bathtub. The bather was modeled in red wax and then placed in the tub. Degas then added some plaster to portray the water. In the exhibit, the piece is eye-catching for being different than his other sculptures, even though many feature female nudes.
The horses and various dancers on display show his continual effort to improve on his depiction of gestures, muscles and movement. As in many of his pastels, faces are generally not a focal point; extended arms and or legs are.
Other Works Included
To complement the sculptures, the exhibit also features various Degas paintings and pastels from the Norton Simon's collection. The juxtaposition shows how Degas translated his portrayals of ballerinas and bathers between two and three dimension presentations. Reportedly, he sometimes used his sculptures as sources for drawings in place of a live model.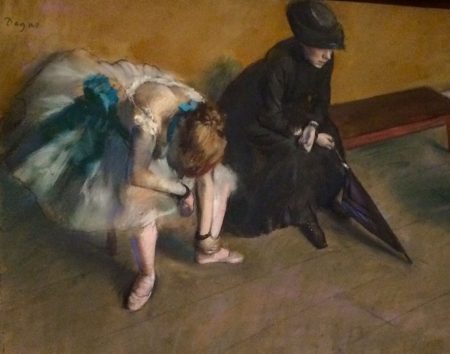 "Taking Shape" includes some lesser-known pictures from the museum's collection of Degas' work. One is a full-scale copy of "The Rape of the Sabines" by 17th century French painter Nicolas Poussin. As a young man, Degas sat in the Louvre Museum and worked to recreate the painting. While done early in his career, the piece shows some of his later emphasis on gestures that were reflected in his later work.
"Waiting," 1879-1982, is a pastel jointly owned by the Norton Simon and the J. Paul Getty Museum. It shows a dancer and her presumed chaperone (or someone in street clothes) waiting in a hallway. While the expressions are not seen, the picture conveys the tension of waiting.
Degas, like Leonardo Da Vinci, started many works, but did not finish them. Some of the pieces in the exhibit are clearly incomplete, but they show his evolution to his more masterful, finished pieces, even if they were never seen publicly in his lifetime.
The "Taking Shape" exhibit shows an expansive representation of Degas's works— the Norton Simon has one of the largest Degas collections in the world—celebrates the artist's little known reputation as a sculptor. It will be on display through April 9, 2018.
By Dyanne Weiss
Sources:
Exhibition visit Nov. 10, 2017
Norton Simon Museum
ArtNews: Unraveling the Mysteries of Degas's Sculpture
Vanity Fair: Degas And The Dancers
Photo by Dyanne Weiss of "The Tub," modeled c. 1889; cast 1919-21, by Edgar Degas (French, 1834-1917) Bronze, No. 26, Modèle cast, Norton Simon Art Foundation.
Photo by Dyanne Weiss of "Little Dancer, Aged Fourteen," modeled 1878–81; cast after 1918, by Edgar Degas (French, 1834-1917), painted bronze with cotton and silk on a wooden base, Norton Simon Art Foundation.
Photo by Dyanne Weiss of "Waiting, " a pastel by Edgar Degas jointly owned by the Norton Simon Museum and the J. Paul Getty Museum.