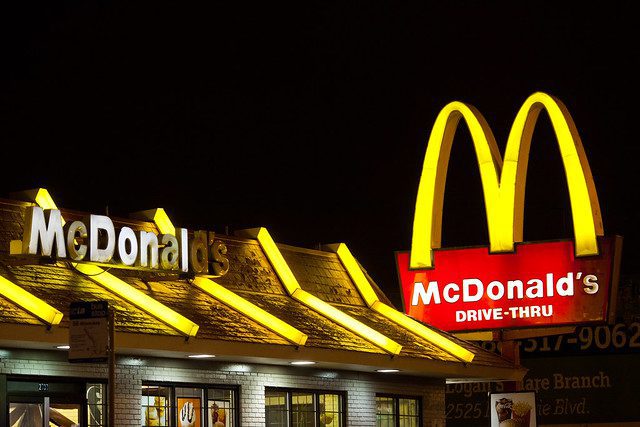 Starting April 30, 2019, McDonald's is cutting back on their menu of food item choices after midnight to 5:00 am by almost 50 percent.
McDonald's will include only those items which sell the best and are found to be popular. The fast-food chain believes this will help customers get their items as quick as possible.
A spokesperson for McDonald's said; "We always try to make the customer's of our restaurants have a delicious, smooth, and simple experience, no matter what time it is. That means around the clock, and the fast-food chain is looking for ways to better serve them.
After midnight, customers will no longer be able to purchase: salad, Artisan Chicken Sandwiches, Filet-O-Fish, Buttermilk Crispy Sandwiches, and Buttermilk Crispy Tenders.
On can still purchase at McDonald's after midnight is All-Day Breakfast, Happy Meals, fries, McCafe drinks,
Big Mac, Chicken McNuggets, Quarter Pounder, and apple pie.
People took to Twitter to tweet their outrage.
Austin Bloss @ausibloss tweeted: thanks McDonald's you know how to mess up a snack late at night.
Frank Kemp @FrankKemp3 tweeted: Can anybody explain why McDonald's has to have a late night menu? They are not finding a cure for cancer. Making a hamburger is not very labor intensive.
Peter @BurgerDogBoy tweeted: I hope nobody has a craving at midnight for tenders of fish. McDonald's will only have eight food items!
Written by Barbara Sobel
Sources:
The Daily Meal: McDonald's to Cut Late-Night Menu by Almost 50 Percent
Today: McDonald's is making big changes to its late-night menu — and fast food fans are mad
USA Today: McDonald's will soon cut back on its late-night menu after midnight
Featured and Top Image Courtesy Of Thomas' Hawk's Flickr Page – Creative Commons License
Center Image Courtesy Of Dennis Sylvester Hurd's Flickr Page – Public Domain