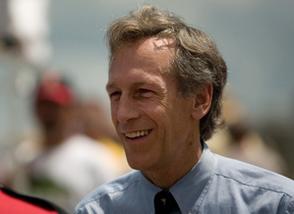 Former six-term U.S. congressman, Virgil Goode, has positioned himself as the most authentic conservative in the 2012 presidential race. The Guardian Express interviewed the Presidential Candidate in early August. During the interview we asked Goode, why he wanted to be President of the United States. Here's what he told us:
Marriage is a union of one man and one woman. Thus, he could not and would support gay marriage under any circumstances. He pointed out to us that both Romney and Obama have been inconsistent on the subject, while he has never wavered. In fact the formal Congressman maintained that legalizing same sex marriage would adversely affect the county's finances. Goode went on to explain that "it would open social security benefits to gay partners and thus drain the social security fund." Though he's been criticized for his position, the 65-year-old member of the Constitution Party said he not only stood against gay marriage, he supports the federal Marriage Protection Amendment.
When I asked him about asking companies to hire more women and minorities, the former congressman said he's for fairness but not quotas.
Goode pointed out that he is "the only candidate running for president who recognizes the need for jobs in America to go to American citizens first.
"I'm calling for a near-complete moratorium on green card admissions into the United States. Last year, for example, we had 1.2 million admitted green card holders. This takes jobs from U.S. citizens. A green card holder can get a job in about any state doing about anything. And those jobs should go to American citizens when unemployment is at 8.3 percent," he said.
Ask him what he would do about our immigration problem; Goode said he would maintain the ban on legal immigrants to the United States "until the unemployment rate is
below 5 percent." Furthermore, he stated, "I favor measures that will secure our borders and end illegal immigration. My view of totally ending illegal immigration and reducing legal immigration is needed if America is to be saved.
Goode's goals for his presidential campaign are modest and ideologically populist.
"We hope America eventually will wake up and say, 'We don't want either the Democrats or Republicans."
Both those parties, he explained, "are controlled by multibillionaire interests with the SuperPACs funneling hundreds of millions of dollars to both sides. We're a grassroots campaign and 2012 may be the year that America says, 'I'm tired of the big money controlling the Republicans and the big money controlling the Democrats [so] I'm going to vote for an ordinary, average citizen running a grassroots, shoe-leather campaign, Virgil Goode."
Although his career in politics in Virginia has spanned more than three decades, Goode expects to win more votes in other states.
"I think in some of the western states we're going to do well. I think in Wyoming we'll do well. We've got some support in Ohio, some support in Florida, so we're going to do well in a number of states."
He added that he is "hoping to be on the ballot in New York and get some votes there" and that he is "on the write-in ballot in Texas. I think we'll get some votes in Texas and North Carolina" where he is also a write-in candidate.
I also asked the candidate what he would do about the federal budget. He eagerly answered, "I want a balanced budget sooner and not five to ten years in the future.
Before the interview was over, Goode emphasized that he would not take money from "Political Action Committees.
All-in-all the candidate appeared quite forthright and honest. In addition, he never wavered from his positions.
Contributor D. Chandler