Jessieville, Arkansas – On Sunday, a five-year-old boy who survived the devastating Oklahoma tornado was mauled to death by a bullmastiff.
The little boy was staying at the home of family friend, Lynn Geiling, in Jessieville, Arkansas, with his two-year old sister.  The children's parents had returned to try to rebuild their home in Moore after the devastating tornado destroyed it.
According to reports, the boy was putting on a pair of shoes and began to act out and crying.  He became upset and acted out against the female owner of the dog, screaming at her.  The dog possibly saw this as an act of aggression and lunged at the boy.
When the dog began to attack the boy, Geiling tried to pry the dog's jaw from the boy and called to her husband to help.  The Geiling's called for emergency help and met an ambulance for help.
The unnamed child was taken to Mercy Hospital where he was pronounced dead.
The dog ran away from the home but was later picked up and captured.  The dog has since been euthanized.
There have been no charges been filed against Geiling; however, county line fines owners $500 if pets attack a person or another pet, so they could still be charged.  There was a community meeting held on Monday night with a discussion centered around banning certain breeds or enacting mandatory rules such as micro-chipping or containment of animals.  Currently, the county does not even have a leash law and there has been strong opposition against the measures.
Bullmastiffs are large dogs, 100 – 120 pounds when full-grown, they are strong, powerful, and sensitive dogs.  They can be good family dogs but need consistency, training, and socialization.  They are natural guardians of their owners and homes.  According to the American Kennel Club (AKC), the breed is "fearless and confident, yet docile".
In November of 2012, Dawn Brown, a firefighter was mauled to death by a bullmastiff that she and her husband had just taken in a week prior.  Brown was found at the bottom of a stairwell after the dog attacked her; it took four officers to get the muscular dog under control.  The dog had no previous incidents of aggression.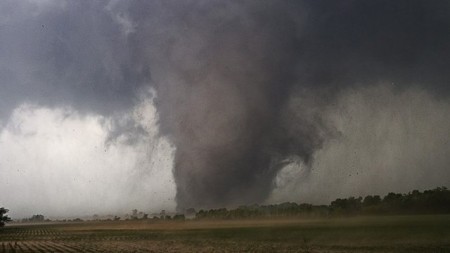 The Oklahoma tornado that destroyed the boy's home occurred on May 20 in Moore and took the lives of 24 people. The tornado was classified as an F5, caused $2 billion in damage, destroyed 13,000 homes, and was a mile wide.
The attack on the five-year-old Oklahoma tornado survivor mauled to death by the bullmastiff is a reminder of how powerful and unpredictable any animal can be.
By Dawn Cranfield
Senior Correspondent / Product Specialist