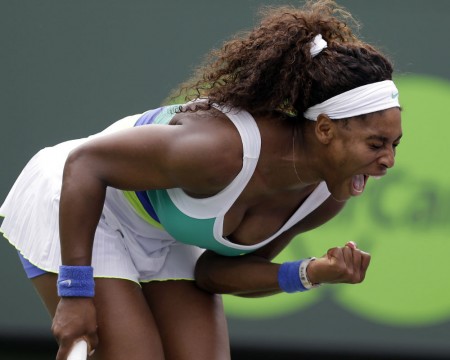 Serena Williams avoided the upset that has become the theme of this year's Wimbledon tournament. She easily handled Caroline Garcia today, defeating her 6-3, 6-2 in just over an hour. However her next opponent is someone she is in awe of, the oldest opponent ever to reach the third round at Wimbledon is playing some of the best tennis of her career.
Kimiko Date-Krumm, a 42 year old from Japan, is 23 years older than Caroline Garcia, the woman Serena defeated today. When asked about her opponent, Serena describe the oldest woman to reach the third round in a statement following her victory.  "I remember her being No. 4. I remember being happy for her. Now she's back playing some of best tennis of her career. She stopped for 12 years which is nuts. She's so fit. She looks great."
Kimiko Date-Krumm defeated Romanian Alexandra Candantu 6-4, 7-5 today to become the oldest woman to reach the third round at the All England Club and earn the right to face Serena Williams.
This is strange territory for Date-Krumm, most likely feeling a little like deja-vu. She has advanced to this level of the tournament in years past, however the last time she did so was all the way back in 1996.
Carrying an impressive career resume into the match against Serena, the oldest player to ever advance to the third round has won over 200 tournament matches in her career. Consistently ranked among the top ten women in the tennis world before her initial retirement, she achieved a career high ranking of number four in the world in 1992. A four time Japanese Open champion, Kimiko Date-Krumm was awarded "Most Improved Player of the Year" following her 1992 Olympic Appearance. She is currently the oldest player ranked in the world top 100 rankings.
She is not the oldest person to ever win a match in Wimbledon however, it would take another five years for her to tie that mark. Martina Navratilova won her opening round match at the tournament in 2004 at the age of 47 years old.
An upset seems unlikely for the oldest player to make the third round, as Serena Williams is coming into the match on an impressive hot streak. Winning the French Open, and coming in as the defending Wimbledon champion, Serena is hoping to capture yet another major tournament title, especially since big names such as Maria Sharpova have departed much earlier than expected.
Serena Williams had nothing but praise for her old opponent when she was asked about facing Kimiko Date-Krumm in the third round. "I have so much respect for her. I think she's so inspiring to be playing such high-level tennis at her age and she's a real danger on the grass court. I definitely will have to be ready, it's not going to be easy. "
Upsets have been the theme thus far at Wimbledon, so Serena is probably right not to take her opponent lightly, even if Kimiko Date-Krumm is the oldest person to ever reach the third round.
Follow me on Twitter @CharlieGille
Senior Sports Editor
The Guardian Express