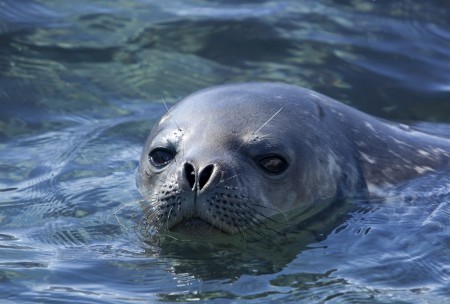 Invented by Belgian instrument maker Adolphe Sax, the saxophone has been wooing people since 1846 with it's bluesy serenades.  Most recently, seals – namely Casey the seal – has been the recipient of such beautiful sonnets ts the Taronga zoo in Australia, as they have started using the Belgian Saxophone as a tool in their new 'environmental enrichment' program.
The leopard seal named Casey has been loving his new program and even singing along as Steve Westnedge the elephant keeper (and apparently seal-keeper) has been taking time to play for Casey each day.  The Australian Marine Mammal Research Centre (AMMRC), based at Taronga Zoo, has been watching and studying Casey since he was rescued near Sydney in 2005.  Marine mammals supervisor Ryan Tate comments on the program:
"They are certainly aware of new noises, so something like the saxophone was a great way of giving our leopard seal some different environmental enrichment.  At certain times of year they really react to the noises and sing back."
Leopard seals are known for their highly complex sound vocabulary.  The fact that this seal and those working at the Taronga zoo are having this experience, is unique for sure. Casey is the only leopard seal in the whole world who is living in a zoo. Most leopard seals reside in the ices of Antarctica, occasionally visiting New Zealand, Aukland and the Campbell islands during the deep winter months. "Underwater vocalizations are of low to medium frequency and long duration. The leopard seal's lowest frequency call is particularly powerful and can be heard at the surface and felt through the ice."  It seems Casey the seal is liking the deep notes of the saxophone as you watch him dancing and twirling near the glass.
Music played for zoo animals seems like a great idea indeed, especially in light of the fact that these creatures are not in their natural habitats and have to adapt to an environment unlike 'home.'  Music has been shown to decrease stress in humans, so why not animal life in general?  Sound therapy has long been recognized as not only a way to calm the mind and soothe the emotions, but to balance the brain and release healing hormones in the body as well.  Animals who have been captured and put into zoos because of injuries like Casey, could greatly benefit and find intense healing from sound therapy, thus allowing their gentle release back into the wild.
Originating in Belgium as a bridge-instrument to "be the most powerful and vocal of the woodwinds, and the most adaptive of the brass—that would fill the vacant middle ground between the two sections"  is today,  being used as a zoo tool to soothe Casey the seal in Australia.  Do you think Adolphe Sax would have ever imagined it?  Perhaps more zoos will begin to incorporate music and extend the environmental enrichment program to animals of every species in every zoo.  It certainly sounds like a great plan for aspiring musicians – to play for the animals before the people 'devour them.'
Written by: Stasia Bliss
Sources: Mail Online; MusicFeeds; Department of Conservation; The Star; Arkive