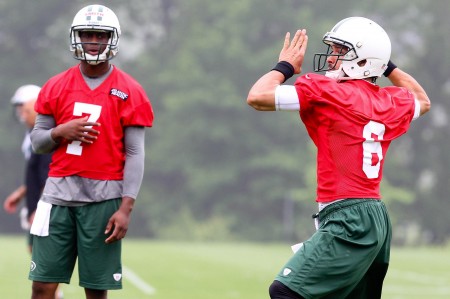 One of the biggest story lines in training camp is the New York Jets quarterback battle. With the team set to open camp in just two weeks, Mark Sanchez remains confident he will beat out rookie Geno Smith in the biggest battle of his career. Rex Ryan has  a make or break year on his hands, if he picks the wrong man to play quarterback, he stands a great chance of being shown the door after this year. Both men will be around for a few more years, because the Jets are going to stick with the Sanchize, and the move will pay off.
The much maligned quarterback has deserved much of the criticsm he has received of late, but he is the leader of this offense, no butts about it.
Kicking off his annual summer camp shows he is the leader of the Jets offense, regardless of what the media wants you to believe. Jets West is an annual camp ran by Mark Sanchez in his hometown. All offensive players are invited. How many quarterbacks put in the effort to run their own OTAs?
After completing a day of Jets West, Sanchez confidently told reporters he would win the job once again. "When it comes down to a competition, I just put my money on myself," Sanchez said. "And bet on myself and go play and go win the job. So if that's what it's going to be like it's been clear that's what it is, alright let's go."
While the Sanchize has his own leadership on display weeks before training camp, rookie challenger Geno Smith has remained distant, opting to work out on his own in Florida.
As of now the leadership advantage clearly goes to Mark Sanchez. That can change once training camp starts, Geno Smith fans can point to Russell Wilson taking over Seattle's locker room in camp last year, but for now Sanchez is one step ahead.
The locker room wants Sanchez to start. Speaking for the team, center Nick Mangold told the media that "I think Mark is a fantastic quarterback for us, and I think he can do some good things. He showed some good flashes in the spring, getting new offensive coordinator Marty Mornhinweg's system down and commanding the offense way that he should be. We'll see how training camp plays out, but either way, the competition will make him a better player."
He added that "whoever gives us the best chance to do that, we want out there — and at this point, Mark gives us that best chance."
The Sanchize may struggle at times, and may not be an elite quarterback in the making. However he has a familiarity with the offense that only comes with time. A proven winner, Sanchez has taken the Jets to one win of the Super Bowl twice already. With a stout defense and rejuvenated running game thanks to the signing of Chris Ivory, Sanchez won't have the pressure of needing to lead game winning comebacks week in and week out like he did last year.
With pressure taken off, the Jets will reap the rewards of sticking with the Sanchize. He will once again become the adequate game manager he was early in his career. If he cuts down on turnovers and lets his defense win games, this team will make the playoffs.
Another perk of sticking with their Sanchize quarterback is letting Geno Smith develop for a year to prepare himself for another battle with Sanchez in next year's training camp.
For now the job is Mark's to lose, and the Jets will wind up sticking with the Sanchize another year.
Follow me on Twitter @CharlieGille
Senior Sports Editor
The Guardian Express