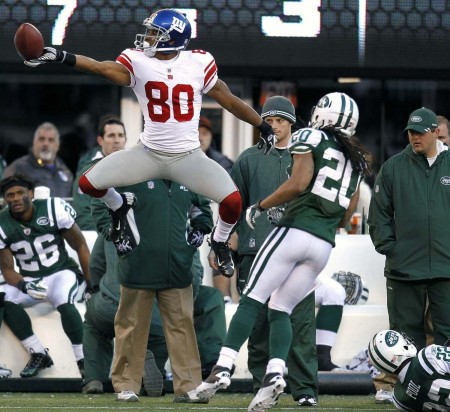 In the not too distant past it would have been absurd for a team to give a receiver such as Victor Cruz a five year $43 million contract extension. The fact that the New York Giants were willing to invest such a large sum of money into what previously would have been looked at as a number three wide out shows that the slot receiver position has seen its value skyrocket.
If you asked the average NFL fan to name the best receivers at the position, the list generated likely would not include many players who line up in the slot. Their list would likely include names such as Detroit's Calvin Johnson, Cincinnati's AJ Green, and Chicago's Brandon Marshall. Yet the position is becoming essential to sustaining success in today's pass happy league, and the Giants recognized that by ponying up a huge sum to keep Cruz.
Coming up with a list of elite slot receivers would not be as easy as receivers in general to most fans. Players such as Wes Welker and Percy Harvin popularized the position in recent years, however there are not many game breaking slot receivers in the game today. That makes Cruz that much more valuable, and justifies the contract he received today.
The resigning marks step one for the Giants this year. Victor Cruz is a key part of their offensive plans moving forwards, but he is only one of two big name wide outs the team has to resign. Hakeem Nicks, the team's number one wide receiver, is in the last year of his contract this season.
Perhaps a sign of the rising value of the slot receiver that is equally telling in comparison of the Giant's resigning Cruz is the fact that the St. Louis Rams drafted slot receiver Tavon Auston out of West Virginia with the number eight pick in this year's draft.
Although not typically the big bodied target that quarterbacks look for when attempting to stretch the field, slot receivers like Victor Cruz are important components in a pass heavy offense because they can act as a safety net for the passer with underneath routes. They are typically small, run quick routes, and can make people miss in space.
Victor Cruz has become a sensation over the past two seasons, bringing in 168 catches and famously salsa dancing in the end zone following each of his 19 touchdowns.
Both sides were confident that this deal would be reached throughout the off season. Although Cruz was an unrestricted free agent, neither he nor the Giants made much noise, even after Cruz missed mandatory minicamps as a result of not being under contract. They proved their confidence was not misguided with today's resigning.
$15.6 million of the deal is guaranteed, and Cruz will average $7.6 million in salary for each of the next six seasons. Not too shabby for a man who was undrafted coming into the league just four years ago out of the University of Massachusetts.
Slot receivers are being valued more and more as the league continues its pass happy ways, Victor Cruz' new contract only further illustrates that to us all.
Check out a highlight video of Cruz 2012 season below.
Follow me on Twitter @CharlieGille
Senior Sports Editor
The Guardian Express