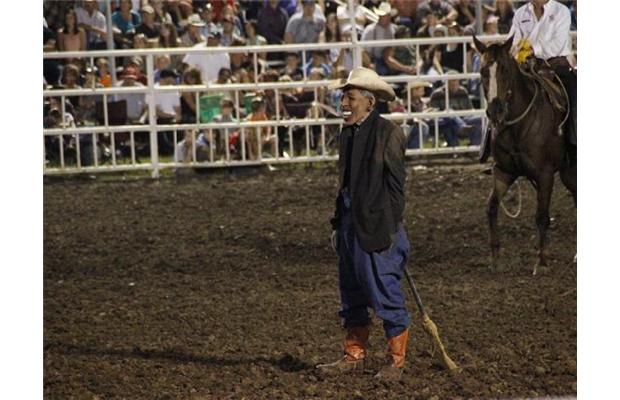 A rodeo clown performance at the Missouri State Fair Saturday has been cited by both Democratic and Republican government officials as inappropriate and disrespectful. Near the end of a rodeo show, a clown came into the ring wearing an Obama mask. The clown asked if anyone wanted to see Obama "run down by a bull."
According to spectators, another clown walked up to the Obama-masked clown and pretended to tickle him. The taunting remarks went on for about 15 minutes before a bull was released into the ring. The stunt ended when the bull got close enough that the mask-wearing clown had to run for cover.
Both Republican and Democratic government officials are denouncing this as "offensive" and "disrespectful." Missouri Lt. Governor Peter Kinder (Republican) released a statement saying, "The Missouri State Fair celebrates Missouri and our people." He condemned the actions at the rodeo show and called for "accountability."
The office of Missouri Governor Jay Nixon (Democrat) released a statement saying the performance was "disrespectful and offensive, and does not reflect the values of Missourians or the State Fair."
Democratic U.S. Senator Claire McCaskill said that those responsible for the "stunt" should "be held accountable."
Missouri State Fair spokeswoman Keri Mergen stated that the rodeo clown's performance at Saturday's event "was inappropriate and disrespectful, and does not reflect the opinions or standards of the Missouri State Fair." She reiterated that the state fair is supposed to be "family-friendly" and that Saturday's performance "badly missed the mark."
Democrat House Minority leader Jack Hummer of St. Louis said the fair is funded with $400,000 of taxpayer money and that this is embarrassing for the "entire state." He has also suggested that additional funding be withheld until after a thorough investigation. That includes questioning the Missouri Department of Agriculture, the main agency that oversees the fair every year.
At first, reports claimed that the announcer at the event was the one who was asking the questions and making the taunting remarks. In an update posted this morning on MissouriNet, the announcer, school superintendent Mark Ficken, President of the Missouri Cowboy Rodeo Association, responded that at no time did he make these comments or was involved in the situation. He said the comments were made by the clown in the arena.
Ficken said that action has been taken against the clown by the cowboy rodeo association. He said he is not at liberty to discuss the details at this time, but confirmed that the clown will not be allowed to appear in any future association rodeo rings.
The Missouri State Fair has been held in Sedalia since 1901. It is a time-honored tradition for 11 days in August of amusement park rides, livestock shows, homemade pies and other food contests, crafts, horse shows, tractor pulls, and musical performances.
Written by: Cynthia Collins