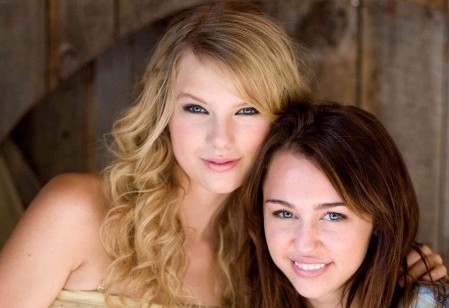 While Miley Cyrus is making headlines and waves for her controversial actions, there is a side to the former Hannah Montana that not many know about. Last year Miley was named one of the top five young charitable celebrities who take the time and make the effort to help those less fortunate. Though Miley is generous, she has been beaten by Taylor Swift, who was named the number one most charitable young star of 2012.
But this year, the Wrecking Ball singer made the news in July for appearing nude, but, not in a music video. The 20 year-old singer posed nude with just her hands and a slogan to hide her blushes. Marc Jacobs put the naked Miley on a custom tee-shirt.
The slogan that hides Cyrus' breasts reads "Protect the Skin You Are In." The tee-shirt was a limited edition that had been signed by both Jacobs and Robert Duffy. Proceeds from sales of the "Miley tee" went to cancer research. Just another example of Miley's generosity. The tee-shirts were sold by GSHQ, aka Geek Shirts HQ.
The limited tee-shirts were available at Marc Jacobs boutiques across the country. They were also available in European outlets of the boutiques.
Tee-shirts for cancer research shows where Miley's heart really is. In 2012, she made time for the dog rescue organization Saving Spot! which finds homes for dogs who have a greater risk of being euthanised. She also made time for TOMS' One Day Without Shoes challenge and she contributed towards the Save the Music Foundation, The Starkey Hearing Foundation and, like her pal Justin Bieber, the Make-A-Wish Foundation.
But as great as Miley Cyrus is in her support of various charities, she has been beaten by Taylor Swift.
Last year, the 23 year-old singer/songwriter was listed as the number one charitable celebrity of 2012. Taylor has been recognised by the Do Something Awards, The Giving Back Fund and Tennessee Disaster Services. Last year, Swift was given The Big Help Award by Michelle Obama for her "dedication to helping others."
As well as being named most charitable celebrity of 2012; she is the youngest person to get ever the Ripple of Hope Award which is given by the Robert F. Kennedy Center for charitable works. Taylor gave $4 million to the Country Hall of Fame Museum. She also gave considerable donations for foundations who support young cancer victims.
Taylor also supports arts education and children's literacy. The performer gives generously to victims of natural disasters. In 2008, she gave the proceeds earned from her merchandise sales to the Red Cross disaster relief fund. Swift has supported rescue efforts across the USA and around the world. From Tennessee to Haiti and Australia she has given her time and money to help others.
Taylor, like Miley and Justin, also supports the Make-A-Wish Foundation and other charities that aid sick children. She also works to encourage other young people to donate time and money to worthwhile charities. It is this long list of charities that helped Miley Cyrus get beaten by Taylor Swift in the charity department. But even though Miley is in second place, it is nice to know that she really does do a lot more than court controversy to further her career.
By Michael Smith
United Kingdom