Since finding out on live TV that she has cancer, Amy Robach now urges women to get checked. She was reluctant to agree to a mammogram at first. However, she decided to go through with it in order to help other women realize how important it is. Little did she know, it was herself that she would be saving.
Robach says that doctors have told her that "for every person who has cancer, at least 15 lives are saved because people around them become vigilant." Breast cancer is one of the most commonly diagnosed cancers and women are under great risk, as shown by Cancer Research's 2010 statistics, which reported that 49,564 women were diagnosed with the cancer and 11,556 have died.
After finding her second tumor, she now pushes for women to be aware of how common breast cancer is and to ensure they get a full medical examination to check for it, whether they think they have cancer or not. This can consist of a clinical examination, an ultrasound, or, like Amy Robach, a mammogram.
The National Breast Cancer Foundation also encourage women to do a self-examination once a month. They state this should be performed in the shower, in front of a mirror and lying down.
When in front of the mirror, women are told to move their fingers around their breast in a circular pattern. They should move from the outside to the center, checking the breast and the armpit area, feeling for a lump or thickened skin.
In front of a mirror, they should look at their breasts with their arms down to the side and then raise their arms over their head. Women should be looking for any swelling or changes in the nipples. They should then press their palms on their hips, and look for any dimpling or changes, particularly on one side.
Lying down, women are advised to put a pillow under their right shoulder, with their right arm behind their heads. Using their left hand, they should move their fingers around the right breast. This should be done in small circular movements covering the breast and armpit area. The nipples should then be squeezed in order to check for any discharge or lumps. This process should then to be repeated on the left breast.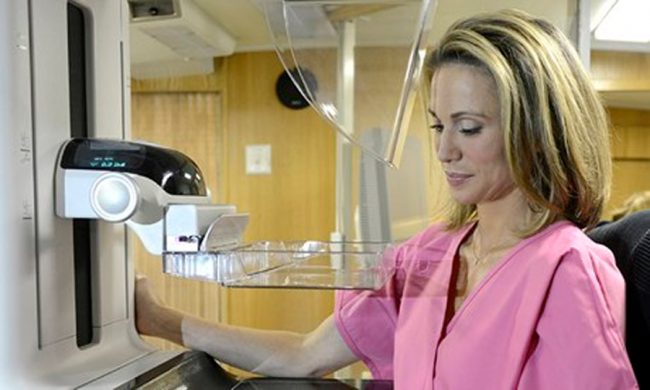 Amy Robach says she is in utter disbelief about the way she found out she had breast cancer. Doctors have told her that if she had not found out when she did, she may not have survived. They have also said, that if she had not chosen to undergo a bilateral mastectomy, the second tumor would not have been found.
She has spoken about the physical and emotional turmoil she has been through since she was diagnosed, which she said has made her look at life "through a different lens." Although she sees this as a positive, and has described her ordeal as something that has made her value the things she used to take for granted, she does not wish any woman to have to go through the same. For this reason, Amy Robach has stated that she urges all women to get a thorough cancer check.
By Melissa McDonald
Sources: