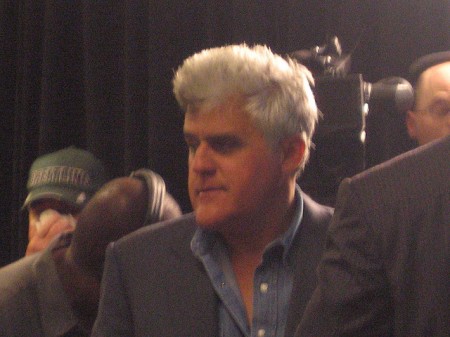 Jay Leno involved in a bestiality lawsuit would be the source of a lot of jokes from the strange media story that has just being released, if he was not at the center of it.
The Tonight Show host is being served with a complaint by a woman who says that she was wrongly blamed of committing bestiality during a segment on Leno's show.
In the lawsuit, which was filed in Supreme Court in New York, a former flight attendant by the name of Louann Giambattista claims that on a a July 2013 episode of The Tonight Show, it carried a story about her allegedly sneaking her pet rat onto work flights inside her underwear or pantyhose and that she was performing bestiality.
The flight attendant, who is 55 years of age, states Leno aired the piece mocking the claims she had made in a federal lawsuit against her previous employer of 32 years, which was American Airlines.
Leno also stated that one of Giambattista's co-workers said she saw the woman feeding the rat, though Giambattista explained she was only eating a dinner roll out of a cup. Leno responded with saying he did not know anyone who ate rolls from cups. The show aired on television back on July 18 of this year.
In the suit, it read that Leno and various guests falsely stated that Ms. Giambattista was performing bestiality with the rat, mainly during comments made by the panelists during the segment of "Woulda, Coulda, Shoulda."
Since the piece was on television, Giambattista states that she and her spouse, Steven Goldring, have become exiles within their own community, among their friends, among co-workers and even with family.
Giambattista and Goldring's personal life has allegedly endured much suffering because each time he looks at her he thinks Jay Leno and the monstrous segment depicting his wife as committing bestiality.
After announcing the story with Giambattista's picture, Jay Leno had the three comedians comment on the story, according to the flight attendant. She claims they systematically defamed, criticized and humiliated her, also saying she was into bestiality, although she has named none of them defendants in the lawsuit.
In a horrible attack on the plaintiff's character, one of the comedians accused Ms. Giambattista of using the rat for her own personal sexual pleasure and depicted Ms. Giambattista as a woman who engaged in bestiality, the lawsuit reads.
All through the show segment, defendant Jay Leno laughed as his guests condemned Ms. Giambattista's character and he also continued to engage them on.
The show has caused extreme havoc on Giambattista's marriage, the plaintiff has stated because her husband now is experiencing severe sexual dysfunction.
She says that Leno knew that the story was based on completely false and nasty rumors, and that she was the innocent victim of discrimination fueled on by American Airlines' shocking belief that she suffered from some sort of mental ill health.
Giambattista is seeking an unspecified amount of damages, along with her lawyer's fees and the pay she says she will never get because Leno's television show destroyed her career.
By Kimberly Ruble