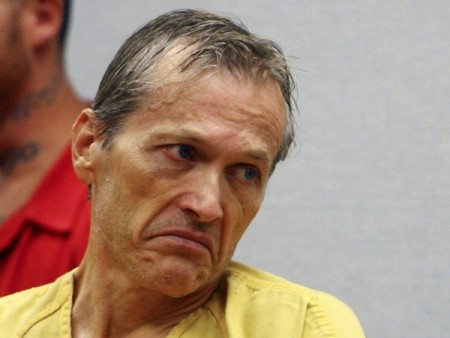 The children of Martin MacNeill can finally go on with their lives.  The true identity of the man they loved and adored from their happy childhood, was slowly uncovered and revealed like a sheep in wolf's clothing.  The Utah dad turned out to be a stranger, a demon in disguise, the father they never really knew.
Martin MacNeill, father of eight, was an upstanding pillar in the community of Pleasant Grove, Utah.  He was a good doctor and a fine lawyer.  He had served as a bishop in his local congregation at The Church of Jesus Christ of Latter Day Saints.  He was a doting husband and father and loved life.  Something went terribly wrong when MacNeill became a demon in disguise as he approached age 50.
His secret life of lies and deceit was well hidden as he created his master plan.  MacNeill was ambitious and accomplished.  He had married the love of his life, Michele and they formed a family with four children.  They were so in love, they extended their family with four more adopted children.  The house was full of little girls and one boy.
MacNeill must have cracked somewhere along the way and started leading a life outside the family realm.  He slimmed down, started tanning and dressing differently.  He had secret affairs.  MacNeill started receiving veteran benefits that were not valid, took out life insurance policies, masqueraded with fake diseases and urged Michele to have a face-lift.  His mid life crisis, or rather his split-personality was in full force when his wife was mysteriously found dead in August of 2007.
It all seemed strange to the older children, then adults.  Their mother was a healthy, gorgeous, blond 50 year old.  Michele, a former beauty queen, took good care of herself and her family.  They lived in a nice home and had many friends in town and through the church.  It was an ideal life in anyone's book.  The bizarre request from Martin for Michele to have a face-lift seemed strange, but she complied to keep her husband happy.
Recovering from the face-lift seemed typical, although Martin had asked the doctor to prescribe additional medicines for his wife.  In less than two weeks from the surgery, Michele was found dead in the bathtub apparently falling and hitting her head.  The fall and her death were attributed to natural causes from heart disease and high blood pressure, possibly aggravated from the numerous medications she had been taking.
Daughters Alexis and Rachel had an uneasy feeling about the whole thing, as did Michele's sister, Linda.  The clincher came when the demon in disguise dad brought a nanny into the home.  Gypsy Willis was a young nursing student and did little cooking, cleaning and caring for the younger children.  It was too suspicious as the sisters and Linda formed their own investigation and sought the help of authorities.  It appeared as if Martin had overmedicated Michele to the deadly extreme in order to be with Gypsy.
The years rolled by for the sisters without answers, as the horror of their mother's death drove their brother Damien, age 24, to suicide in 2010.  The wait was agonizing, missing their mother was unbearable and accusing their own father was traumatic and heartbreaking.  They had done their homework and the legwork to compile enough evidence against their father.  The case was reopened, but not before the elder MacNeill was convicted and sent to jail for fraud.
Gypsy Willis had become another lover in the long list of affairs and she and MacNeill pretended to be married.  MacNeill sent one of his older adopted daughters, Giselle, back to the Ukraine in order to use her social security number for Willis.  His life was a lie and Alexis and Rachel did everything in their power to set the record straight and have their father convicted of their mother's murder.
The sad tale that took hours of grief, tears and paperwork proved successful when the demon in disguise was brought to trial.  The jury found Martin MacNeill guilty of first degree murder on November 9, 2013.  He is awaiting a sentence which will most likely be life in prison.  All the facts were in, the cards had been dealt and justice was served while MacNeill nodded and said okay.  The sobs of relief were heard throughout the courtroom as the once vibrant man who had become worn and haggard, was slowly led away.
He had deceived his children and the community and there was enough evidence to convict him of murdering his wife.  The mother of his children was gone, she could never come back.  Now Martin will be gone forever, locked away from the torment he caused his family.  The dad who was a demon in disguise will have to ponder the rest of his life with the torment in his own soul.
By Roanne H. FitzGibbon