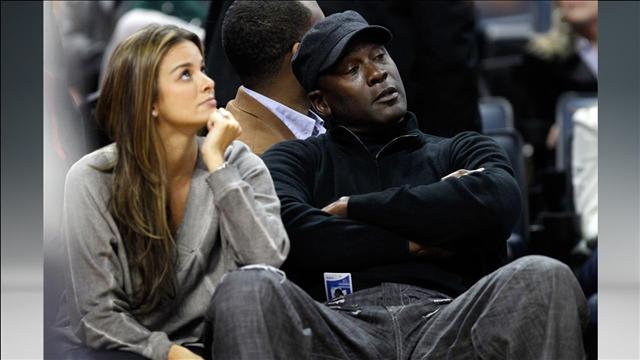 Michael Jordan and his wife Yvette Prieto announced to US weekly that they are official expecting their first child together. The couple have been dating for 5 years and finally tied the knot seven months ago. Jordan proposed on Christmas day in 2011 and just a few days later went to the Florida court house to apply for their marriage license. Robin Thicke, Usher and Tiger Woods are all present with 300 of their closest friends for their big day in April. Friends and family watched as  the couple enjoyed "One the Ocean" by K'Jon as their first dance as husband and wife.
Prieto, 34, is a Cuban-American model, with a dating history including none other than Julio Inglesias (brother of Enrique Inglesias) who once described her to be a very loving woman. Friends and family would confirm this is one of the many characteristics that set Prieto to be a wonderful mother and wife. Preito's resume includes working with major designers like Alexander Wang although most accounts display her posing on Jordan's arm. The couple began dating in 2008 before moving into a simple three-bedroom house in Florida.
Jordan's 24 years of parenthood already under his belt will hopefully mean that he has what it takes to be a father for the fourth time at the age of 50. His three children (Jeffrey, 24, Marcus, 22, and Jasmine, 19) are all from his first marriage. After 17 years of marriage, ex-wife Juanita Venoy and Jordan split up costing the Bull's legend over 150 million dollars. This makes it one of the most expensive divorce settlements in Entertainment history.
Rumours of Jordan's gambling problems have seemed to have died down since the Dream Team leader last said on 60-minutes "Yeah, I've gotten myself into situations where I would not walk away and I've pushed the envelope" while discussing his habits. This all came to light when businessman Richard Esquinas wrote a tell all called Michael and Me: Our Gambling Addiction … My Cry for Help revealing to the world the $900,000 he had taken from Jordan from golf bets. It certainly would appear that Jordan is a much better basketball player than golfer.
The couple have remained fairly quiet about other information related to the pregnancy or future plans for raising the child. Even a due date has remained private from reporters. Preto's simple and classic reputation lead followers to believe that the rest of their pregnancy will remain quite low-key and personal.
After countless milestones in sports and a title worn proud by Jordan as a legend, it is no doubt the world that despite a rocky personal past in some areas, he will no doubt be a great father. The 5 years the couple have spent getting to know each other put them in a much better position to start a family than some of their celebrity piers. Basketball fans everywhere are hoping for a boy to carry on Jordan's sports legacy for their own children to be able to watch someday.
By Romana Outerbridge
CBS Sports