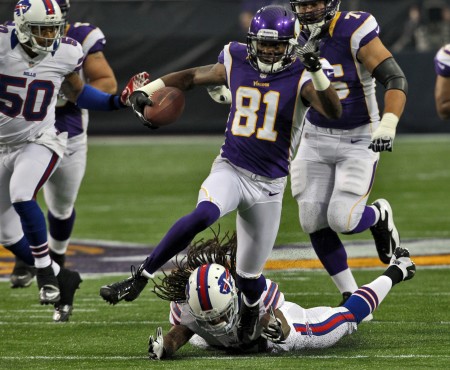 Minnesota Vikings wide receiver Jerome Simpson spent the night in jail after being arrested for DWI early Saturday morning.
A spokesperson for the jail reported that Jerome Simpson refused to take a breathalyzer test at the scene and was arrested on probable cause.
This comes just days after the Vikings pulled off an improbable comeback against the Washington Redskins on Thursday Night Football to record their second win of the season.
Jerome Simpson is no stranger to run ins with the law. A year ago, his first with the Vikings, he served a three game suspension after pleading guilty to drug-related charges. For that arrest he was placed on three-year probation, it is not clear how the DWI arrest will affect his probation.
The NFL has not yet commented on what, if any, disciplinary action will be taken with Jerome Simpson as a result of his latest arrest.
Minnesota Vikings officials have stated that "the Vikings are aware of the matter involving Jerome Simpson. We are continuing to gather information and will have further comment at the appropriate time."
This season was supposed to be the breakout year for Jerome Simpson. His first year with the Vikings saw him slowed down by a back injury after returning from suspension. As a result he was given a one-year deal in the offseason rather than the long term contract he had hoped for.
Through the first nine games, Jerome Simpson had been one of the few bright spots on the Minnesota Vikings offense not named Adrian Peterson. With quarterbacks rotating through the lineup, Simpson still has managed to bring in 33 passes for a team leading 491 yards.