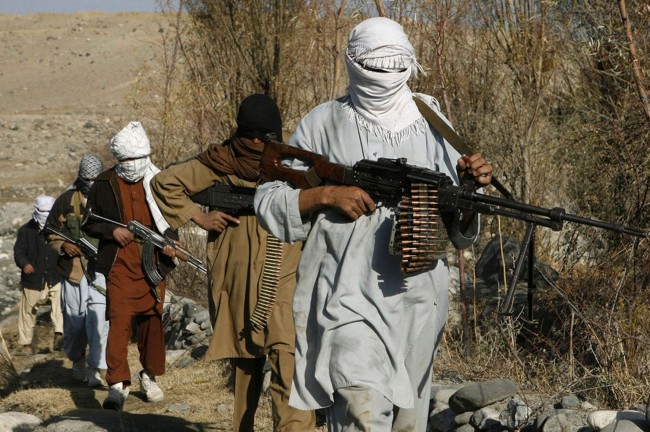 While the world may not be familiar with the name Fazal Hayat, otherwise referred to now as Mullah Fazlullah, the new head of the Taliban in Pakistan, they do know the name of Malala, whom he conspired against. The attack on Malala was one of many embarrassing blows the Taliban experienced in the media under Fazlullah. More humiliation follows as the old blunders are highlighted again in the news.
Radio broadcasting
Mullah Fazlullah is also referred to as Radio Mullah for his pirated radio station he started in the Swat Valley of Pakistan. At inception, the audience was mostly women at home who tuned in to hear a Mullah for the first time broadcast on the radio. They tuned in to hear recitation of the Quran and translations of Hadith. Rhetoric was kept to a minimum of reform such as ridding your household of sinful devices such as TV and VCR's. If the Taliban publicly denounces modern technology and electronic devices as mediums for "sin," it is contradictory and therefore embarrassing to use one to broadcast their message.
Polio vaccinations
Pakistan reported the highest polio numbers than any other nation followed by Afghanistan. According to Global Polio Eradication Initiative, which is a public health effort to eliminate all cases in the world, polio remains an endemic in the Pakistan. The initiative met fierce resistance in the country when parents said they feared giving the vaccine to their children. New Pakistan Taliban leader, Radio Mullah, told listeners the vaccines were a conspiracy by Christians and Jews to stunt the population growth of Muslims. He then publicly challenged international organizations to aid in the Hepatitis C outbreak instead. In December 2012, nine health workers were killed. The Taliban will have to not only deal with embarrassing assumptions that come from an uneducated leader but also handle one who blatantly disregards the health of their children.
Women in government
Benazir Bhutto served as Prime Minister of Pakistan for two non-consecutive terms, first in 1988 and then again in 1993. Also, there is a reserved quota of 60 seats in the Pakistani National Assembly for women. While difficult for women in politics, Pakistan is a ground-breaker in the Arab world for including them. Mullah Fazlullah grew up with women in politics. Yet, the new Pakistan Taliban leader maintains "we have our tradition that bars women from taking part in the elections and violators will be punished." He may completely denounce his childhood, which included Mrs. Bhutto as his Prime Minister, but it was not the only time women were in leadership roles. Historically, women in Islam and have run businesses, had rights to property and voted.
The first convert to Islam was the Prophet Mohammed's first wife, Khadija bint Khuwaylid. She was a very successful merchant with large trading caravans. Before they married, she hired the Prophet Mohammed to trade for her. Consequently, she was his official boss and employer.
Taliban leaders may try to issue pamphlets and confuse villagers about women's rights but women in Islam have guaranteed rights outlined in the Koran, including being permitted to divorce their husbands. It was the first Abrahamic religion to give women the right to divorce. Either the new Taliban leader, Mullah Fazlullah, skipped too many classes at his local madrassa or he is trying to create an entirely new religion based on his interpretations of Islam. Since Islam guarantees the rights of women to property inheritance specifically defined in the Koran. It seems absurd to presume women should not participate in a government charged with orchestrating laws of the land, the very land women legitimately claim.
Educating Women
The world cried out when the Taliban shot the young schoolgirl, Malala Yousafzai. It soon surfaced the new leader, Mullah Fazlullah, orchestrated the attempted assassination. At the same time, the Swat District of Pakistan shut down 400 schools, which ended the education of 40,000 or more girls. The world responded with outrage and Malala survived thanks to medical treatment in the UK. However, the entire event serves as another example of Mullah Fazallah embarrassing lack of knowledge of his religion. Several passages from the Hadith declare the importance of education including being advised "Allah Almighty makes the path to paradise easier for him who walks on it for getting knowledge," an excerpt narrated by Muslim in al-Sahih, 4:2074; and "acquire knowledge even if you may have to go to China for it," narrated by al-Bazzar in al-Musnad, 1:175.
Further research of Hadiths reveals hundreds of calls to educate oneself. Hadith is meant for every Muslim, including men and women. While Fazlullah adopted the name "Mullah," which refers to a man (or woman) well versed in Islamic theology, he maintains a different position than scripture advises.
All Muslims should be embarrassed that Taliban leaders continue to hijack their religion and push through their own agenda. The Taliban itself should acknowledge its humiliated role on the world stage derived from blunders made by Mullah Fazlullah. The name "Taliban" hails from the Pashtu word for "students." Student leaders should be of the highest education but apparently the Pakistani Taliban continues to separate itself from its roots. Before, Hakimullah Mehsud headed the group and became famous in social media for his smiling in photos and waving in YouTube videos. Now, the Taliban elected Mullah Fazlullah, continuing to humiliate their claim to knowledge.
By Cayce Manesiotis
Polio Eradication
Himal